Double sided banner stands are being used at trade shows and conventions. The vendors like these retractable banner stands that are double sided. Usually a banner stand is one sided and you simply put the back of a banner stand away from where they are approaching. But with a double sided banner stand, from no matter what angle they come at, they will see your sign. Vendors and companies displaying at the event venues will place these double sided signs in from to their display booth. So no matter if the attendees approach from the left or right, they will see your pop up banner stand.
These versatile signs offer businesses and organizations an innovative way to capture attendee's attention, deliver marketing messages, and bring exposure to their business. The event venues themselves will use double side roll up banner stands for directional signage.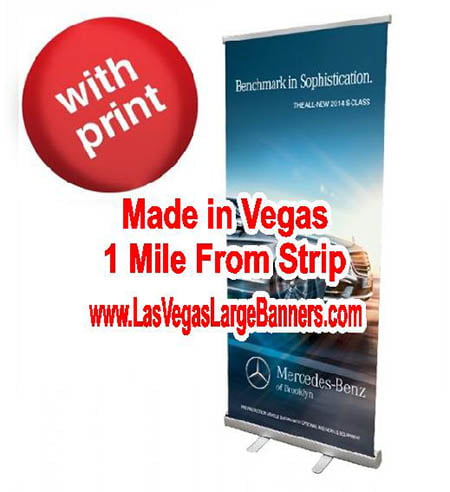 Double Sided Banner Stands Can Be Seen From All Angles
Double sided retractable banner stands possess a unique ability to get people's attention from different directions. So these signs are strategically displayed in high-traffic areas. So they ensure that passersby can see the banner stand sign regardless of their approach. This 360-degree visibility increases the chances of attracting potential customers attention and drive the traffic to your display booth.
The versatility of double sided banner stands shines through when it comes to delivering your display. Businesses can choose to display the same marketing message on both sides for the best results. Or they can diversify their content and place an entirely different ad on the opposite side. This marketing strategy allows them to target different demographics or promote different products and services at the same time. Also in today's multi culture environment, one side of the banner stand can be in English. The other side can be in a different language. Another positive attribute is a retail store can showcase ongoing discounts on one side. While highlighting different products on the other side.
Las Vegas Banner Stands Are Not Expensive
Las Vegas retractable banner stands and double sided banner displays are not very expensive. The average cost of a 33×78 retractable banner stand in Vegas is about $125.00. A double sided banner stand costs in the $275 range. The common width and height are usually about 33×80″ high. The banner stands are long lasting and can be used at different events. No special skill is required to set up the banner stands. In fact, you can walk right into a event venue with them and set them up yourself in a minute or two.
Las Vegas events and trade shows are dynamic shows where attracting attention is paramount. Double-sided banner stands prove to be invaluable assets in these cases. So whether it's a trade show, conference, or business presentation, these pull up banners make sure that a brand's message is seen by attendees at your event. The portable banner displays are self standing. So that allows them to be placed anywhere. They are light weight and can easily be moved around.
Create your banner graphic to represent your company and products. Utilizing your company colors and product colors help brand your company and merchandise. Using clear and concise text on the banner signs allows for easy readability. Incorporating bright and vibrant colors into your color scheme will draw attention to your banner stand signs. You must remember that attendees at these events have talked to a lot of people and stopped at many display booths. So making sure you leave a positive experience with them is important. Utilizing a QR code allows your double sided banners to be interactive. The attendees can scan your QR code and save the information.
Double Sided Roll Up Banner Stands Can Be Used Many Times At Different Events
Banner stands are designed to last a long time. So they can be used at different events. The pull up banner stands all come with a carrying case for easy transport. The banner stands also come in economy and deluxe models. In many cases, the banner graphic can be saved and merely replaced with a new banner sign for a different event. All the banner graphics can be designed in full color. Meaning you can print various colors on the banner sign along with pictures and images. it is important to remember to use high quality pictures and images. Since these double sided banner signs will be looked at up close. Your company's branding rests upon a good display.
Conclusion
The trade shows and conventions held in Las Vegas are very competitive. Thousands of companies throughout the world display at these events. So millions of attendees come to see the latest products and technology on display. In fact, Las Vegas has three large event venues to hold these shows. The Las Vegas Convention Center, The Mandalay Bay Convention Center and the Venetian Expo. all these event facilities are state of the art with over one million square feet of dividable floor space. So these event venues are so large that they can actually hold different events under one roof at the same time.
It is important that your company be able to stand out from all the competition. You should use double sided banner stands and other types of signage at these events to stand out. Foam board signage, backdrop banners and table cover cloth signs are also a big hit with vendors and companies. Together, these trade show signs can make your display booth a great success. And that is the purpose of going to these events, to impress and distribute information to your clients.
So call a local Las Vegas banner stand company today about ordering your banner stands and other trade show signage. These sign shops can have your signs and banners waiting for you when you arrive in Las Vegas for pick up. Or they can have your Vegas signs and Vegas banners delivered to your hotel room or event venue. So save money on expensive shipping and just get the sign printing done locally and save yourself a lot of worry.