Custom pull up banners Vegas or retractable banner stands are being used at the Las Vegas events and shows with frequency. The vendors and companies displaying at these events like the low cost banner stand displays and their portability. The pull up banner stands are self standing signs. So that means you can place them anywhere as they require no support to be displayed. So these versatile and eye-catching banner stands have become an essential part of any successful trade show marketing strategy. By enabling businesses to create a display booth that captures the attention of attendees.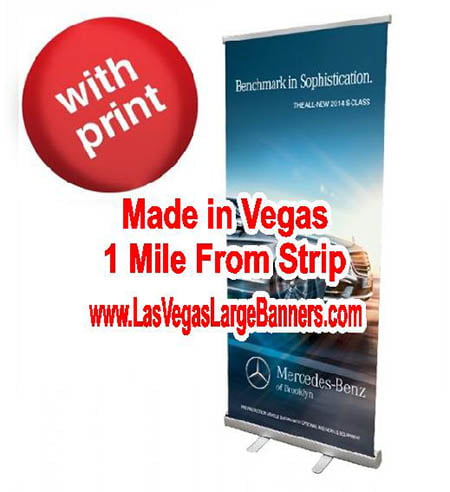 What Are Custom Pull Up Banners Vegas ?
Custom pull-up banners, also known as retractable banners or pull up banner stands. Are portable sign displays that consist of a printed graphic that can be rolled up into a base unit. This base unit serves as both a protective casing for the sign graphic . The base also provides for a support structure when the banner stand is set up for display. The banner stands are easy to set up and only take about a minute or so. The same time for taking down the banner stand applies. All the banner stands come with a carrying case. So this allows you to walk into a convention venue and set up the retractable banner stand yourself. No expensive union labor or special workers need to be hired.
A major advantage of using custom pull up banners is the freedom they provide in terms of unique design and messaging. Businesses can fully customize the sign graphics, vibrant colors, concise fonts, and overall layout to align with their branding . This flexibility enables the Las Vegas banners to effectively communicate the brand's personality and values. So thus making it easier for the attendees at your event to take notice of your signage. Because once they see your signs, they will stop and inquire about your products.
The attendees at your event are overwhelmed with confusion. They get tired of walking around. So making a strong visual impact sign is crucial to getting their attention. Using high quality graphics and images on the banners can instantly get the attention of people walking by. So this gives you the opportunity to speak with them when they stop.
Banner Stand Displays Come in Many Sizes To Meet Your Marketing Needs.
Selecting the right banner stand size is imperative for the space available. The bigger roll up banner stands are easier to see and take notice of.
The portability factor of trade show banner stands cannot be overstated. These sign displays are designed for easy transportation. So often coming with a carrying case that ensures safekeeping during transit. The retractable banner stands are compact and make them an excellent choice for businesses.
Setting up a pull-up banner is a hassle-free process that can be done by a single person in just a matter of seconds. This sign set up convenience allows businesses to focus their time and energy on engaging with their audience. So rather than wasting valuable time setting up display signage.
Advertising and marketing expenses can quickly add up, especially for small businesses. Retractable banners offer a low cost solution that provides maximum visual impact. Unlike traditional advertising methods that require ongoing investments, pull up banners purchased on time and can be used repeatedly for various occasions.
Conclusion
Event signs and event banners are needed to get attention at these shows. Foam board signs, backdrop banners and roll up banners embody all these qualities. SO thus making them an indispensable asset for any company's event booth. So with the ability to market your company effectively, create a strong visual presence, and provide noticeability at a reasonable cost. These signs are definitely needed for you to have a successful event. So, whether you are just reinforcing brand awareness or trying to get new clients. These custom retractable banner stands are the perfect solution for you to get noticed. The visual impact on the attendees will get them to take notice of your event booth.