Cheap trade show signage is available for the many Las Vegas trade shows. These trade shows and conventions are big business in Las Vegas. So these shows attract thousands of vendors and companies displaying products and services. Attending the trade shows are people from all over the world. They come by the millions to see the latest products and innovations. Many different types of trade show signs are needed for these events.
What Trade Show Signs Are Used At Events ?
Las Vegas banners are used quite frequently. As these Vegas banners are very affordable and can be made quickly. Since many signs are proprietary to a single event. Why spend a lot of money on a sign that is only going to be used once. Las Vegas banners offer full color banners capable of having pictures and images printed on them. These vinyl banners can be made in a variety of sizes.
Retractable Banner Stands are pop up display signs that are portable. These retractable banner stands are self standing. So you can place them just about anywhere. They require no support other than what they come with. The banner stands are easy to set up and take down. In fact, many companies will have their employees just walk into an event venue with them. So it saves a lot of money on hiring expensive union labor.
Foam Board Signs are made with a foam middle with a paper exterior. These affordable signs are high quality and can come in a variety of sizes and shapes. The foam board signs are cheap in price and can also be made quickly. These Las Vegas signs are generally considered temporary signage.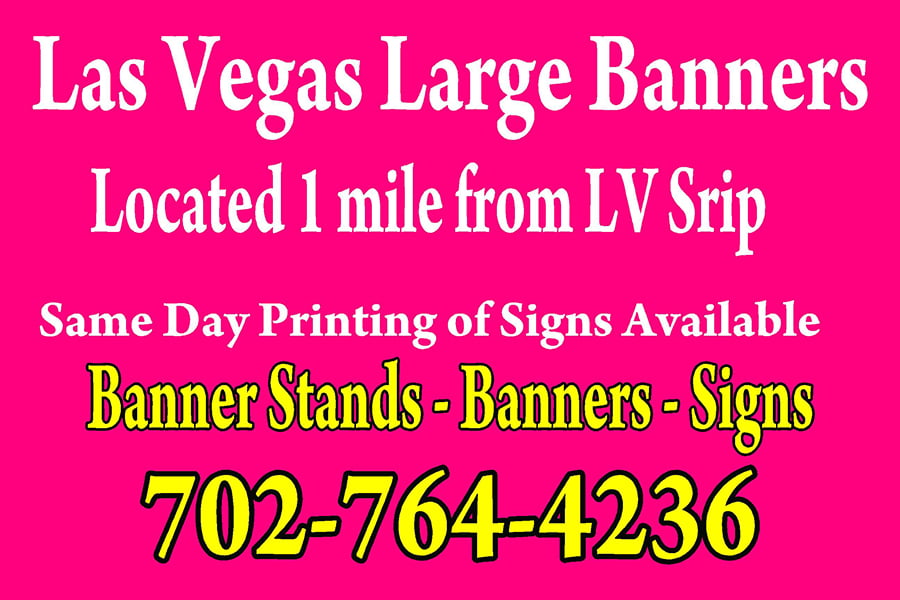 Where Do I Get Las Vegas Trade Show Signs ?
Cheap trade show signage is available at many of the Las Vegas sign shops. These Las Vegas sign companies that offer fast and cheap event signs are generally located near the convention venues. These sign companies tend to have the latest banner printing machines and sign printing machines. The newer printers can print faster and with higher quality than previous printers. So this allows more production and cheaper signs. So then the cost savings is passed on to the customer. Many of these sign shops can print same day signs and same day banners as well. So if you should need fast signs, give a local trade show sign company a call today.