Cheap outdoor banners Las Vegas work great when you need a vinyl banner sign. These vinyl banner signs can be made quickly for your outdoor event and at a low price. The Las Vegas outdoor banners are made to last and can be used over and over again at different events. So these banner signs can be made in a multitude of sizes. Ranging from 1ft x 3ft all the way to 10ft tall x 50 ft wide large vinyl banners.
These outdoor banners are full color sign banners. So that means you can have just one color on the banner or as many colors as you want. Images and logos can also be printed on the banners.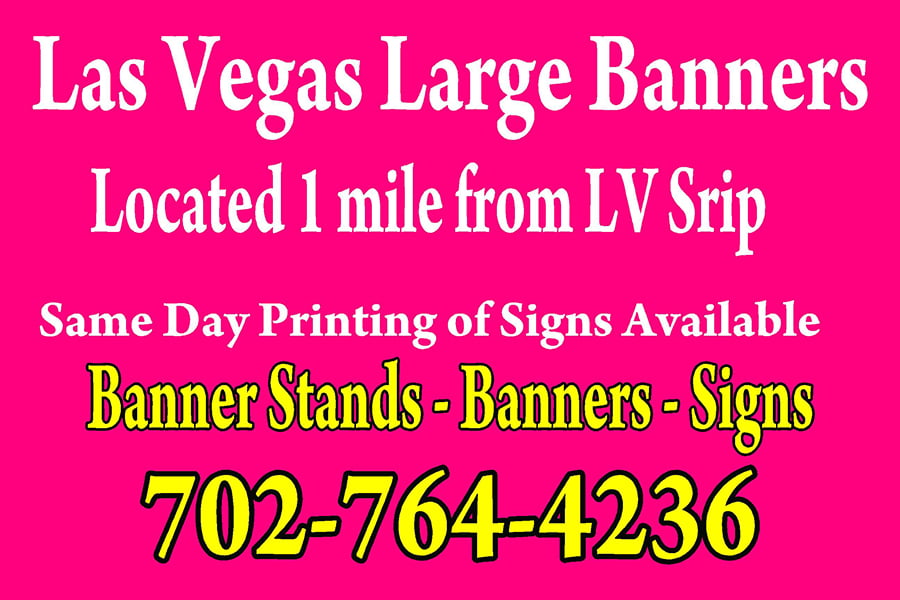 How Are Cheap Outdoor Banners Las Vegas Made ?
Outdoor banners are printed on a 13 ounce vinyl banner material with eco solvent inks. These inks are designed to last a long time in the hot desert sun without fading. So damage caused by the sun is prevalent in Las Vegas. Because of the extreme heat during the summer months. The banners are printed on large format printers using the latest technology. These large printers print signs and banners very fast with utmost quality. So the actual cost of banner signs has fallen over the last several years. Because of the advancement in printing technology.
So another type of outdoor banner sign is the mesh banner sign. The mesh banner is a banner material that has holes in it . So this way the air passes through it on windy days. Some clarity is lost with the printing because of the holes. But it will last a lot longer on windy days. It is made to be wind resistant. Your local Las Vegas sign banner store will have more information on outdoor banner printing.