Backdrop banner printing is very popular for the events and shows held in Las Vegas. The large backdrop banner signs are standard for big companies wishing to impress their clients. These banner signs can be 8ft x 8ft banners or 10ft x 20ft banners. Also many other backdrop banner sign sizes are available. So custom printing backdrop banners to any size you like is not a problem. We have printed 10ft x 50 foot banners in full color. Step and repeat backdrop banners are included in this type of signage.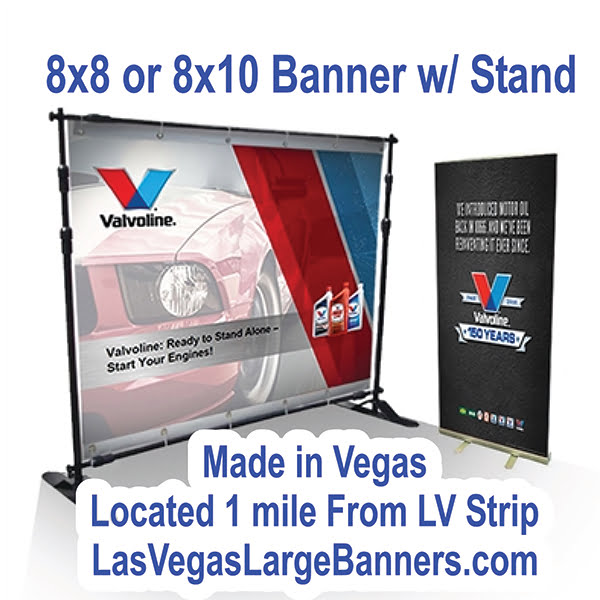 Is Backdrop Banner Printing Expensive ?
Background banner printing is not as expensive as you think. These backdrop banners can be printed in very large sizes. So they can be printed on vinyl banner material or fabric banner material. The banner printing costs around $3.00 a square foot for vinyl banner. Fabric banner printing costs around $5.00 a sq ft.. This includes a full color print. Also you can have grommets placed on the banner or pole pockets. Both pole pockets and grommets are available on the fabric or vinyl material.
These large background banner signs are printed with eco solvent inks that are environmentally friendly. The inks bring out the bright and vivid colors of your design. The inks are fade resistant and can be used both indoors and outdoors. So the banners are also full color. Meaning that you can have as many colors on the banner as you like. Picture printing and logo printing on the banner signs is not a problem.
Using vibrant and bold colors draw people's attention to your banner. So make sure your banner is using bright colors to get attention. Space your text properly and use easy to read text. Using fonts that are easy to read also help people understand your Large banners advertising message.
Conclusion
Your local Las Vegas sign store will have more information on these large backdrop banners. Contact a sign store to find out about printing times and turnaround times. Delivery to the casino or easy pick up is also available. Many of the Vegas sign stores are located very close to the Las Vegas strip. So as to expedite the printing and delivery of signs and banners.