Vegas trade show display signage come in a variety of sizes. The two most popular sizes are the 8ft backdrop display and the 10ft backdrop display sign. These trade show display signs can be purchased in many different forms. So there are straight 8ft display signs and 10ft display signs along with curved versions. So it really just depends on your advertising and marketing needs. But one thing for sure, these backdrop display signs work. They are very popular at the three large convention venues in Las Vegas.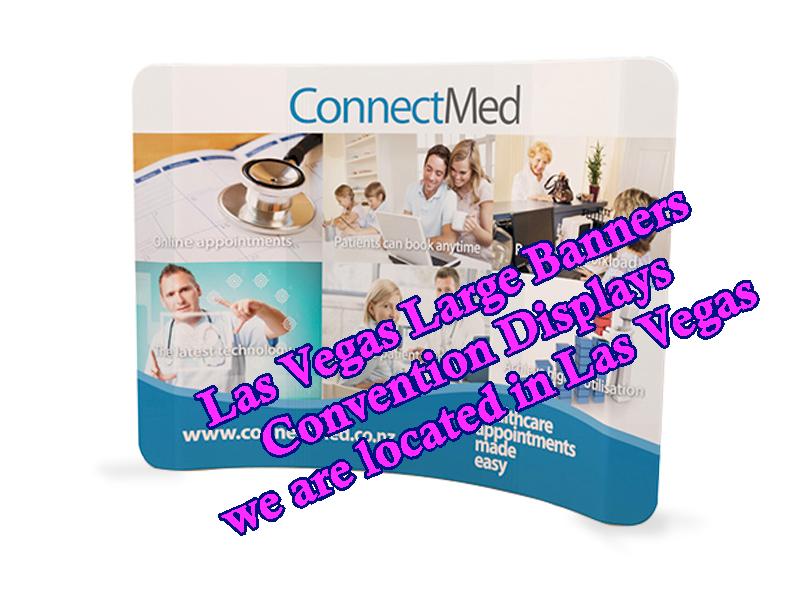 Vegas Trade Show Display Signage Are Easy To Set Up
Trade show display signs are easy to set up. The displays come with a frame that snaps together and then the fabric polyester material with the print goes on top of the frame. So then the fabric is zipped up to give it a wrinkle free appearance. The fabric is machine washable. So for every usage it will appear fresh and new.
Las Vegas convention display signs come in a variety of sizes. The prints are full color. So that means you can have as many colors on the fabric sign as you like. Also you can have pictures and logos printed on the fabric as well. Your sign shop will have a template for you to follow. This template allows for correct spacing on the fabric display sign. The turnaround time for these types of convention signs is about 3 to 4 days. So please plan accordingly. Many companies and vendors prefer to have their trade show signs made in Las Vegas. So this saves on shipping costs and the risk of your graphics not showing up on time. Sometimes they also show up damaged.
Las Vegas convention sign shops are generally located near the convention venues. These sign shops have modern sign making equipment to make your signs fast and with quality.