Vegas pop up displays are great for the events and shows in Las Vegas. These pop up display signs are easy to set up. So you do not have to hire expensive union labor. Nor do you have to go through the stress of hiring the union laborers. The tradeshow pop up displays can be set up in about 10 minutes or so.
There are hundred of exhibitions and events held in Las Vegas Nevada every year. These events attract thousands of vendors and companies who wish to display their products and services to the people. And the people come by the millions to Vegas to see what the latest trends are in their fields of interest. In fact, every casino on the famous Las Vegas strip has meeting room space to hold events and shows. also there is the three big convention venues with over one million square feet of floor space at each facility. The Las Vegas Convention Center is the biggest of them all at around three million square feet of space. So these facilities are so large that they can hold the biggest conventions and shows in the world. Many convention backdrop pop up displays are needed along with trade show backdrop banners.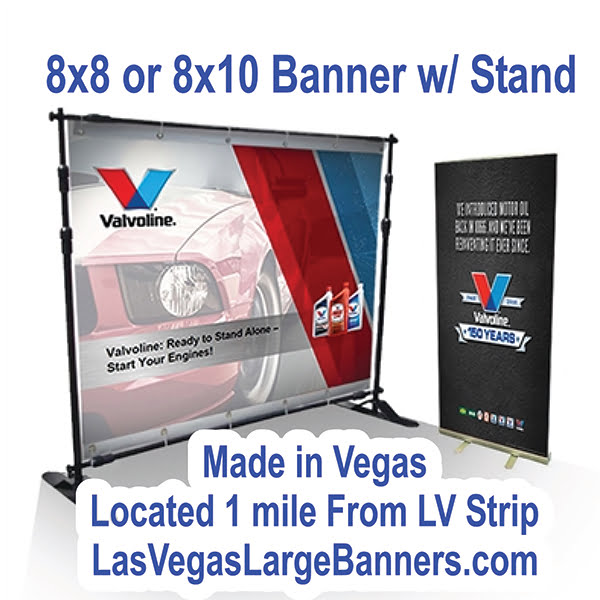 Companies Prefer to Order Their Vegas Pop Up Displays In Las Vegas
The companies and vendors coming into Las Vegas prefer to have their backdrop displays and Vegas trade show signs made in Vegas. So the reason being that they do not have to pay for expensive shipping charges. Also, the companies and vendors know that the signs and banners will be waiting for them in Vegas when they arrive. They can arrange for pick up of their signs or have them delivered to their location. So this makes it very easy on them. The shipping companies have a reputation for delivering signs late or not at all. Sometimes the signs show up damaged.