Vegas convention sign displays are needed at the convention venues. There are hundreds of conventions and trade show that happen annually in Las Vegas. That attract thousands of vendors and companies. These companies display the newest gadgetry and innovations to the public to draw interest in their products. So millions of people come to these events to see the newest products. So many Las Vegas signs and banners are needed to display these products.
Convention booth backdrop 8ft sign displays are very popular at the conventions. These 8ft sign displays come in a curved or straight version. The frame is set up and then the fabric material is placed on top of the frame. So this allows for a tight fabric display that is wrinkle free. The set up time for a 8ft backdrop sign display is about 10 minutes.
Convention 10ft backdrop displays are also available in the curved and straight versions. These 10 ft displays are usually placed in the background. So this way people can see them as they walk by and take notice of your display. The fabric prints are full color. So this means you can have as many colors or combination of colors on the fabric as you want. In addition pictures and images can be printed on the convention fabric sign displays.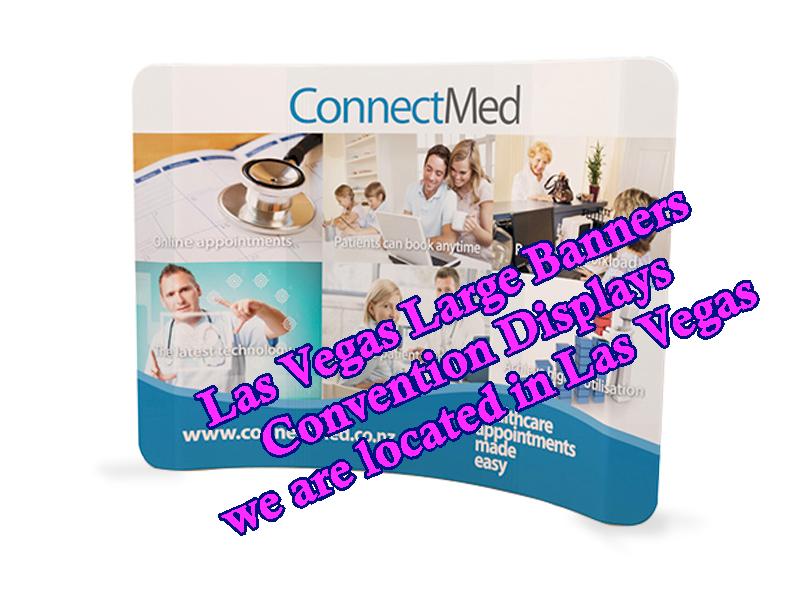 Vegas Convention Sign Displays Are Easy To Set Up.
The Las Vegas trade show booth sign displays are not difficult to set up. The sign displays come with a frame that assembles. So then a fabric print is stretched over the frame to give it a wrinkle free appearance. The set up time for two people is less than 10 minutes. So since the whole sign display comes with a travel bag, it is easy to transport and set up. Your local Las Vegas sign display company will have more information on these trade show and convention signs.