Vegas 8ft curved backdrop signs are big signs used at trade shows and conventions. The vendors and companies love these Las Vegas tradeshow backdrop 8ft curved signs. The signs are the perfect size for those 10 foot wide booths. The vendors and companies displaying at the conventions place these large backdrop signs at the rear of their booths. So when people are walking by, they can see what the companies are promoting. This draws interest and additional business.
Thousands of companies and sellers come to Las Vegas annually to display the new products on the market. So this attract millions of people from many different countries. So many signs and banners are needed at these events and shows. The backdrop display signs are very important. Because they get you noticed. They make your product lines and name easily identifiable.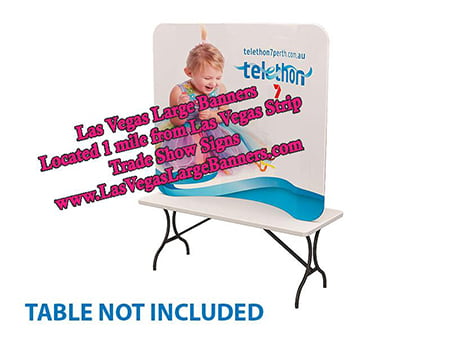 Vegas 8ft Curved Backdrop Signs Come In Other Sizes
Las Vegas tradeshow 10ft curved displays are also very popular at the event venues. These large 10ft backdrop displays are much like the 8ft curved displays. They are only larger.
The curved sign displays also come in a straight version as well. The basic premise is that they come with a frame that assembles and a fabric banner pulls over the frame. The fabric banner is tight on the frame and allows for a wrinkle free appearance. The fabric banner can be purchased separately at a much reduced price while using the existing frame. So you do not need to buy a new display sign each time. So simply replace the fabric banner. Also, the fabric banner is machine washable. So every time you use it it will always look fresh and new.
Your local Las Vegas tradeshow sign store will have much more information on these great signs. Also there are many other options available.