Tradeshow Display Banners Vegas are being used for the trade shows and conventions taking place in Southern Nevada. The Las Vegas banners are a cheap priced sign that can be custom made to any size you want. These trade show banners are in big demand for these events. Many competencies will use the Vegas banners for the sides of their display booths. They will also use 8×8 backdrop banners or 8×10 backdrop display banners at the rear of their display booths. These backdrop banner signs are then held up with adjustable banner stands. The stand adjust to the size of the vinyl banner.
Some of the companies will use Las Vegas banner printing and make really large banners. These vinyl banners will be 10ft tall x 50ft wide or 8×50 vinyl banners. Then they will hang these very large banner signs from the rafters of the convention venue. So that everybody can see your banner. It is quite attention getting.
The Las Vegas banners are full color banners. Meaning you can basically print whatever you want on the vinyl banners in any color. So images, logos and pictures are no problem. The companies displaying at the event venues will sometimes print their product lines on the banners. So this way it makes it very clear what they are selling. They will print a description of the products to make it easy for every body to understand what the product does.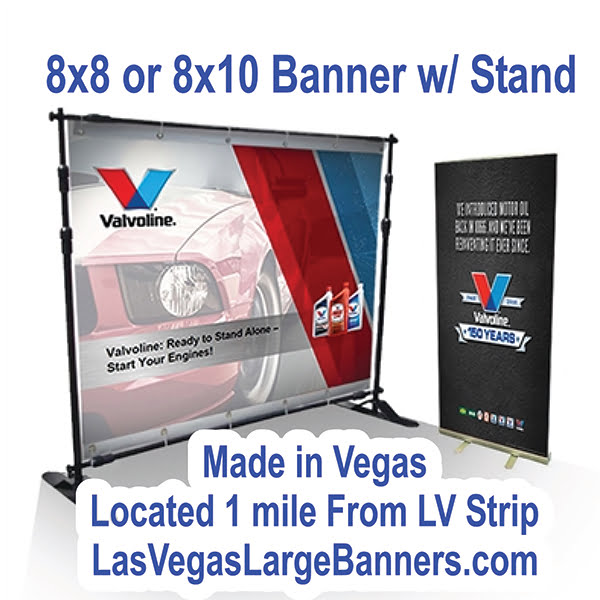 Tradeshow Display Banners Vegas Can Be Dome Quickly.
Trade show banners are printed on a 13 ounce vinyl banner material with long lasting inks. These banners can be used both indoors as well as outdoors. The inks are designed to withstand the hot summer sun of Las Vegas. Same day banner signs are possible because of the speed of the new sing printers. So contact a local Vegas banner company today for more information.