Tradeshow banners are needed in big supply at the many trade shows held in Southern Nevada. These Las Vegas trade show banners can be custom printed to any size you like. So from a simple 1ft x 2ft banner to the 8×8 banners. Also you can get the really big 10×50 vinyl banners as well. All these Vegas vinyl banners are full color printed banners. So this means you can print as many different colors on the Las Vegas vinyl banner as you want. This includes pictures and images also.
So many of the vendors and businesses that come to display at the trade show events like these cheap tradeshow banners. They will place 8×8 backdrop display banners at the back of the booths. So as the people walk by, they can see what your marketing message you printed on your large sign. Many times the businesses do Las Vegas banner printing of pictures of their products on the signs. So this way everybody can see what type of products you are promoting. Add in a brief description of the products on the vinyl banners and the people will stop and read your banner sign. This gives the sales team the time to approach the potential customer. It also makes it easy on your customer to know about your products.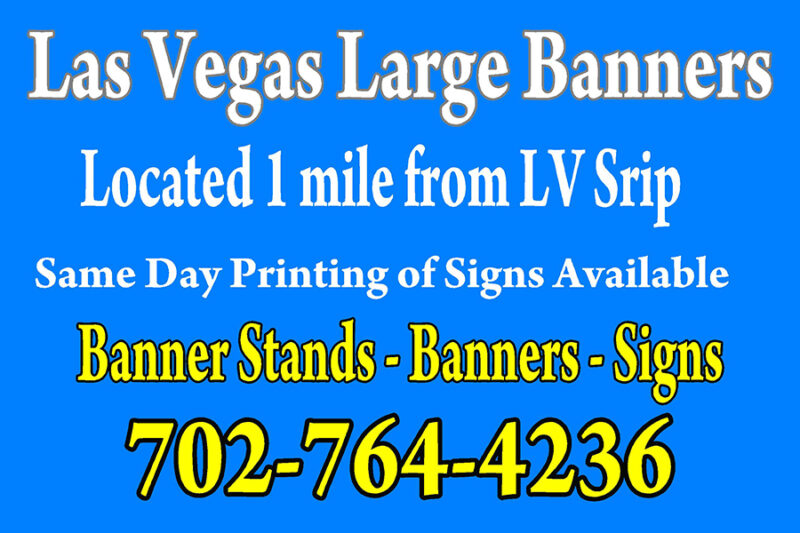 Tradeshow Banners Can Be Made Fast
Same day tradeshow banners can also be made. Rush banner signs are always needed for the many events and shows in Las Vegas. This is becasue many vendors and companies will ship their signs and banners into Las Vegas. Only to discover at the last minute that the signs and banners did not show up or showed up damaged. So in these cases, the convention banners need to be made fast and cheap.