Tradeshow 20ft sign displays Vegas are being used at conventions and events in Las Vegas. Las Vegas is host to hundreds of events and shows yearly. Las Vegas is the king of conventions and trade shows. Thousands of vendors and companies from all across the world come to Las Vegas to show off their products and services. So this in return attracts millions of participants who flock to Vegas to see the new products and services. Many signs and banners are needed for these events. Large backdrop trade show displays are very popular. These tradeshow backdrop signs can be walked into the event venue and set up by your team members. No expensive union labor is necessary to set up these displays.
The set up time for these convention backdrop displays is fast. it is not difficult and can be completed in a matter of a few minutes. Take down is also very easy as well. As a convenient travel bag is included with the backdrop display.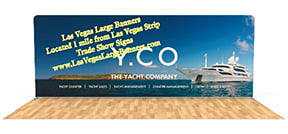 Tradeshow 20ft Sign Displays Vegas Can Be Used Many Times At Different Events
So these tradeshow display signs can be used over and over again. The full color fabric banner can have as many colors printed on it as you like. As well as pictures of products and images. The full color fabric banner graphic is machine washable. So after every event you can simply have it cleaned. The fabric banner will be fresh and clean looking for every event. Also once the 20ft backdrop sign is purchased, you can simply use the existing hardware and change out the banner. So this will allow you to save a lot of money.
So contact your local Las Vegas sign shop and see how these trade show 20ft fabric banner displays can assist you in presenting at the conventions and trade shows.