Trade show display signs Las Vegas are needed for the many trade show events held in Southern Nevada. Most people do not realize that Las Vegas is a major destination for trade show and events in the world. There are hundreds of large and small events that take place in Vegas every year. These events all need Vegas signs and Vegas banners for the events. Thee vendors and companies displaying at these events need many signs like foam board signage, posters and roll up banner stands. But the most specific type of sign needed at these trade shows is the display signs for the trade show booths.
The trade show backdrop display signs are very important at these events. The vendors and companies will place large signage at the back of their booths or sometimes right up front. These tradeshow display signs typically come in a 8ft display sign or a 10ft display sign. The 8ft trade show display sign comes in a curved or straight version. It sells for less than $600.00 It includes all hardware, carrying case and graphic print. The graphic print is a fabric banner that slides over the hardware frame. It has a wrinkle free appearance. The 10ft backdrop display sign also comes in the curved or straight version. The curved version is less than $600.00 with all the necessary hardware.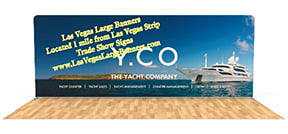 Trade Show Display Signs Las Vegas Come In Other Sizes Also
The tradeshow display signs also come in a 20ft trade show display sign and a 6ft table top display sign. These display signs all come with a full color fabric sign print. Also instead of having to buy a new display sign kit for each event, you can simply just order the fabric banner. If you elect to stay with the existing fabric banner, they are machine washable. So they will look fresh and new for each event after washing.