Trade show banner signs Vegas are being used a lot at the many events and shows held in Las Vegas. The vinyl banners are cheap and easy to display. That combination makes them a favorite at the event venues. There are hundreds of events and shows every year in Las Vegas. Vegas is a top destination in the country for events and thousands of vendors and businesses come every year to display their product lines. So in return, millions of people from all over come to attend the events.
And why not ? The majority of the shows and events take place during the January through May time frame. So while Las Vegas is enjoying short sleeve weather, the rest of the country is knee deep in snow. Who wouldn't want to come to Vegas under those conditions. Plus Vegas is a family town now and the whole family can enjoy themselves.
Many signs and banners Vegas are needed for these events. The back drop banners are especially important for the trade show booths. The 8×8 back drop banner and 8×10 backdrop banner fit perfectly at the rear of display booths. Foam core board signs and banner stands Vegas are also used a lot at these events.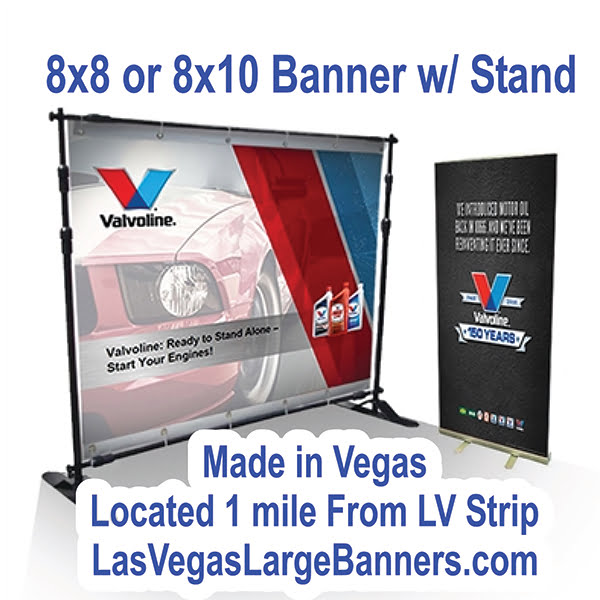 Trade Show Banner Signs Vegas Are Made In Vegas
There are many sign shops in Las Vegas that service the tradeshows and events. These sign shops are generally located near the convention venues and Las Vegas Blvd. The reason they are located so close is because it allows for fast pick up or delivery of your signs. Many of the vendors and companies displaying at the shows just order their signs and banners in advance and pick them up. It saves on costly shipping charges and makes sure your signs will be ready when you are.