Las Vegas outdoor banners are great for getting your business or event noticed. These large vinyl banners can be full color. So that allows you to have multiple colors printed on the vinyl banners. You can have one solid color for the banner. Or also have pictures and images printed on the banner. Businesses like these Vegas banner signs because it is a low cost effective approach to marketing. This inexpensive marketing campaign has done very well for many businesses.
Las Vegas Outdoor Banners Will Get Your Business noticed.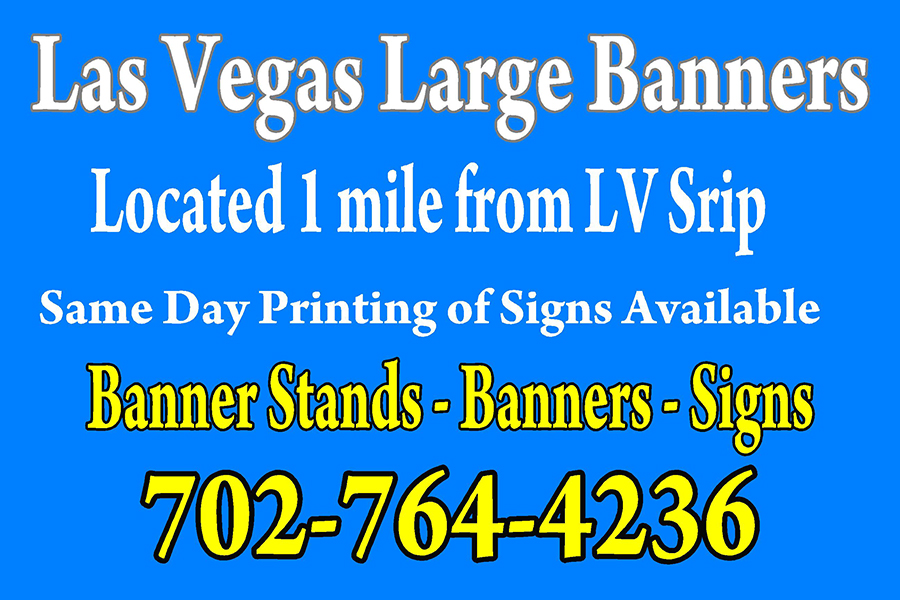 Las Vegas stores are placing advertising vinyl banners on their buildings to advertise their products. This low cost approach is working very well for businesses. The Las Vegas banners can be seen from the roads and streets as people drive by there location. So with the increased population many thousands of vehicles drive the main streets of Las Vegas everyday.
The businesses that are located near the freeways are placing very large banners on the back of their buildings. So this attracts the attention of the people passing by on the freeways. Considering rush hour traffic is getting worse. People are sitting in traffic on the freeway and looking around. So the large vinyl banners act as a billboard and attract their attention. Many businesses are employing this marketing strategy with great success.
These large vinyl outdoor banners are printed in full color on a 13 ounce vinyl banner material. The inks used are designed for outdoor usage and last a long time against fading. The life expectancy of an outdoor Las Vegas vinyl banner is well over one year. The inks are environmentally friendly and can also be used indoors.
Your local Las Vegas banner sign store will have more information and pricing on these great banner signs. See how they can help your business get noticed and increased business.