Las Vegas large banner printing is available for those really big banners. Many times at the convention venues, a company will want a large 10ft tall x 50ft vinyl banner printed. So they can hang it from the rafters and make a big impression on customers. Because these Vegas large banners get noticed easily. You cannot help but notice a vinyl banner bigger than a billboard being displayed in from of you.
While the price of vinyl banners is about $3.00 a square foot. The larger vinyl banners get discounted. So you will be paying less than $3 a square foot for a full color banner print. Meaning you can print as many colors on the vinyl banner as you like. This includes pictures and logos. So this includes printing of the banner on a 13 ounce vinyl banner material. Hemming of the perimeter of the banner for additional strength on the edges and grommets placed approx. every two feet on all four sides.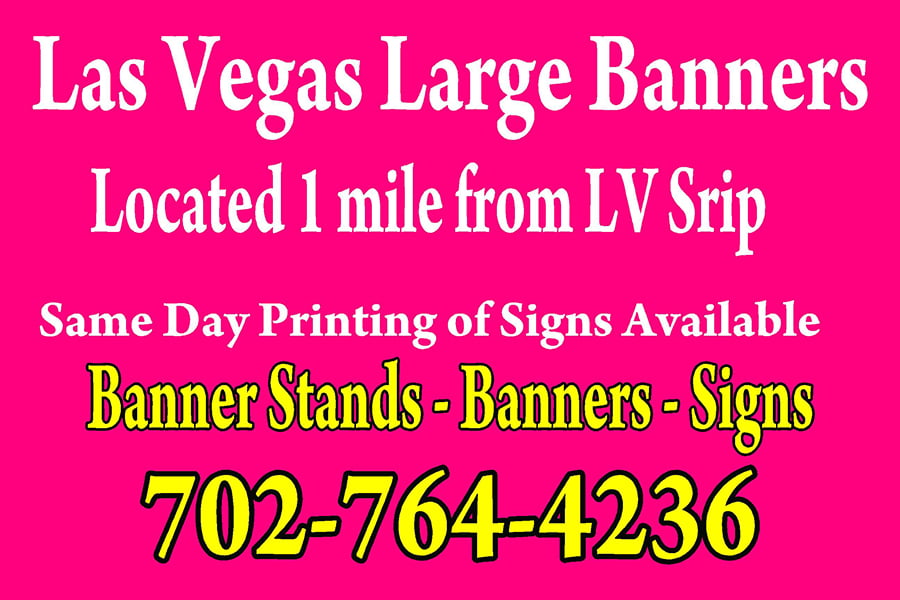 Las Vegas Large Banner Printing Is great For Concerts and Events
Large banner signs are being used are concerts and events as backdrop banners. These backdrop banners are placed at the rear of the stages. So they can be seen by the audience from far away. They make for a great mood setting sign. For example, if you are having a beach concert, you can print a large 10ft tall x 40ft beach scene the band can perform in front of. Also these large backdrop banners are great for Halloween type events and Christmas events.
Many local stores are also turning to big vinyl banners as a way to market to their customer base. So several stores will use big banner printing as a way to make a large 10ft tall x 40 ft banner. They will then display this Las Vegas banner on the back of their buildings . So as to get the attention of people passing by. Many stores are using these big banners as billboards to attract attention of people driving on the freeways.