Las Vegas convention sign banners are available for banner printing in Las Vegas. The convention industry is huge in Las Vegas. Thousands of vendors and companies come to Vegas annually to display the newest products. So this in turn draws millions of people from around the world to attend these events. This is a major economic engine to the Las Vegas economy. So because of all the trade shows and conventions. Many signs, banner stands and sign banners are needed for these events.
There are three very large convention venues in Las Vegas. The Las Vegas Convention Center. The Mandalay Bay Convention Center. And lastly the Venetian Expo. So all three of these facilities have over one million square feet of convention space to hold the biggest and best conventions. So these facilities are so large that they can actually hold several conventions under one roof at the same time.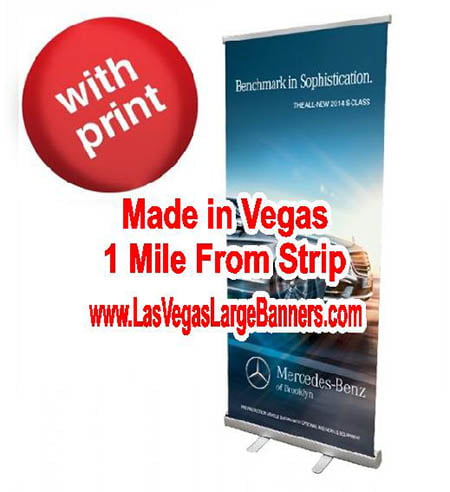 Las Vegas Convention Sign Banners Come in Many Models.
Convention signs are available in many different versions. There is the convention backdrop displays that come in a kit. The 8ft curved backdrop sign is very popular. This 8ft backdrop display sign is easy to assemble and can be put together without expensive union labor. The sign is portable because it fits into a vinyl tote bag for easy transport. Las Vegas banner stands are also very popular at conventions and trade shows. These banner stands come in a multitude of sizes to meet your marketing needs. Also the sign banners can be custom made into any size you like. So banner printing a 10ft tall x 50 ft wide banner is no problem.
Your local Vegas sign company will have additional information on convention signs. These sign shops are located near the convention venues and Las Vegas Blvd.