Your Las Vegas banner company is the place to go to get those Vegas banners printed. Las Vegas banners are very popular at events and local businesses are using them also. The local stores have found that some old school advertising is bringing some very good results. These stores are placing the vinyl banner on their buildings. So that they can be seen by the thousands of vehicles that drive past their location every week. Las Vegas has had a major influx of new residents in the last few years. So these new residents are always looking for places to shop and eat. They pay attention to signs and take notice of the specials these advertising Vegas banners. The banner signs can be made to any custom size needed for the display.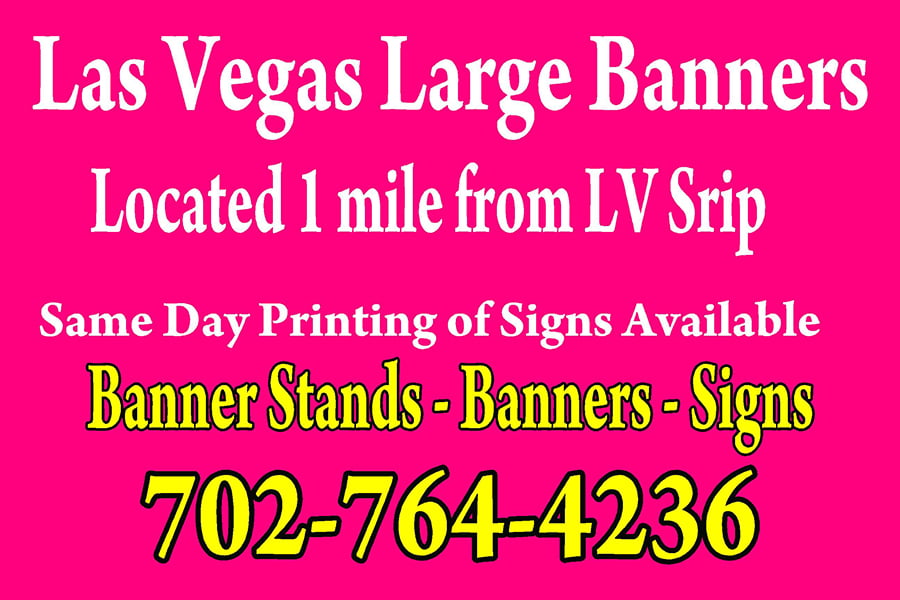 Las Vegas Banner Company Prints Custom Banners For Your Needs
las Vegas banner printing can get you those custom printed banners made in any size you like. The vinyl banners are full color signs. meaning you can have as many colors printed on the Vegas banners as you like. So this also includes the printing of pictures and images on the banner signs.
Las Vegas banners are printied aon a 13 ounce vinyl banner material with special inks. These inks are solvent based and are designed to bring out the bold and vivid colors of your dersign. So they are also designed to last a long time. Which is important in Southern Nevada where it gets over 100 degrees for extended periods of time. These inks are fade resistant. So a banner Vegas will last well more than a year in the outdoor weather of Las Vegas.
Your local Las Vegas banner sign store will have more information on these great advertising banners. So give them a call today to see how these signs can help your business.