Large event backdrop banners Vegas are a big hit at shows and exhibitions in Las Vegas. These backdrop banners get noticed and make a lasting impact on your clients. Large backdrop banners have become an essential tool for creating impactful and memorable experiences. These big banners serve as powerful backdrops that not only enhance the aesthetic appeal of an event. But also express the event's theme, message, and brand identity. These large backdrop displays are used quite frequently at trade shows and conventions in Las Vegas.
Large event signs are designed to get the attention of attendees from the moment they enter the event. With their impressive size and colorful design, these Vegas banners immediately set the tone. Whether it's a trade show, conference or event, these Las Vegas backdrop banners establish a visually appealing environment. So that draws clients in and encourages them to participate in your event. These large banners set the tone for your event.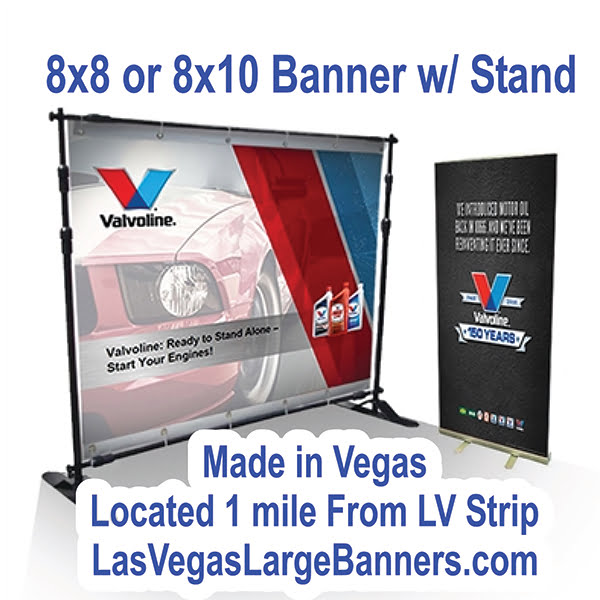 Large Event Backdrop Banners Vegas Create Atmosphere.
Las Vegas banners have the ability to effectively convey brand identity and messaging. Through carefully chosen colors, logos and imagery. These Vegas banners reinforce brand recognition and leave a lasting impression on attendees' minds. Consistent branding of signs and banner at events, including the backdrop banners. Helps reinforce the event's purpose. Contributing to a positive experience that enhances your company's branding or event.
Las Vegas backdrop banners play a crucial role in reinforcing the event's theme. Creative designing, such as colorful graphics, allow organizers to transform the event space into a cohesive and visually unified environment. So thus effectively getting the attendees attention and in the spirit of your event.
Step And Repeat Banners Are Popular at these Events.
In the age of social media, step and repeat backdrop banners offer a great opportunity to create shareable moments. Attendees are drawn to these visually striking backdrops. The people will take their self photos or group photos in front of the step and repeat banners. So the logo or name you want advertised will always be displayed in the background. So thus making them a popular spot for photo-taking. When attendees share their photos on social media platforms, they inadvertently amplify the event's reach and generate buzz online.
Designing a large backdrop display banner involves careful consideration of various components. High-resolution graphics and images are essential. So as to ensure a crisp and visually appealing display. Font selection should prioritize easy readability from a distance and up close. So the overall layout should strike a balance between information and pleasing graphics. Collaborating with skilled designers is crucial to bringing the banner design to life.
As large event backdrop banners are often used multiple times at different events. You can choose the right substrates to make your banner sign last a long time. With minimal effort, your Vegas display banner will last a long time if cared for properly. High-quality materials and printing techniques are essential to ensure the banners withstand wear and tear, outdoor conditions, and transporting. Using a tube to place you banner in will help minimize damage. Additionally, the banners should be designed for easy assembly and disassembly. Allowing event organizers to be able to set up your display banner fast and easy.
Your local Las Vegas banner display company will be able to assist you with more information. They will be able to answer your questions and get your event signs printed fast and cheap.