Large banner printing Vegas can lead you to a Las Vegas banner company. So you can get your large vinyl banners printed quickly and inexpensively. Las Vegas has many banner sign shops that can make your signs and banners. Southern Nevada is host to hundreds of events and shows a year. So at these event, many signs and banners are needed. Thousands of vendors and businesses come to las Vegas to display their services and products at these events. So these events draw millions of people from all over the world.
Large banners are needed at the trade shows and conventions. The vendors and businesses displaying at these events use them as backdrop banners. The two most common sizes are the 8×8 backdrop banner and the 8×10 backdrop banner. These backdrop banners fit in the rear of trade show display booths. So as the people walk by they get to see what your company is all about. So on these banners, pictures of products and services can be printed. The Vegas large banners are full color signs. Meaning you can have as many colors on the banner as you like.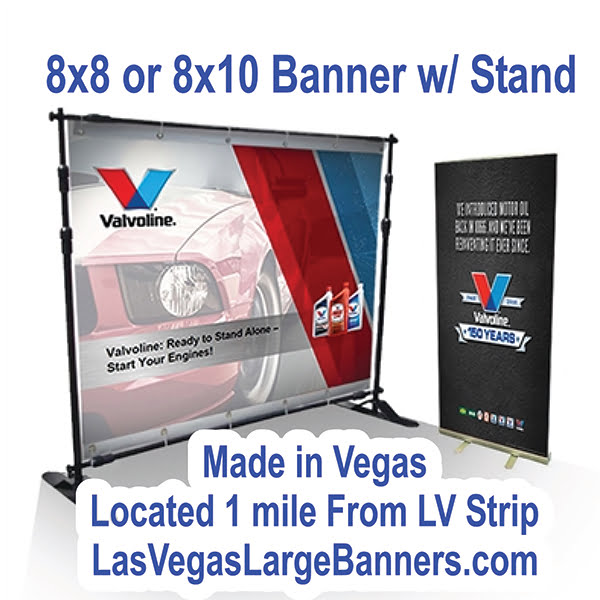 Large Banner Printing Vegas Also Is Good For Local Businesses
Many businesses located near the freeways are using big banner signs as a way to advertise. They are making these vinyl banners very large and then placing them on their buildings. So that as the cars on the freeways drive by ( or stuck in traffic ) see there banner sign advertising. These businesses are placing 8ft tall x 30 ft wide banners or larger so to make it easy to see. The stores are doing this with great success. Once installed, these big banner signs last a long time. You can easily get more than a year out of the outdoor banner sign. So that equates to just pennies a day for advertising to be seen by thousands of people weekly.