Cheap Vegas 8ft banners are available for the events and shows in Las Vegas. Las Vegas is the host to many events and shows that require large 8ft banners. So there is also the hundreds of conventions and trade shows that happen yearly in Las Vegas. All these events require a lot of Las Vegas signs and banners. The large 8ft tall banners make for quite the impression on people. These 8ft banner signs can be made in any length to meet your advertising needs.
So at the trade shows, 8ft step and repeat banners are very popular. The company will print their name or logo on the banner. The names or logo will be printed in a staggered pattern . So that from any angle a picture is taken, the name or logo can be seen in the background.
Large 8ft x 8ft step and repeat banners are also used at night clubs in Las Vegas. The night club will print their name on the banner and allow guests to take pictures of themselves in front of the banner. The tourists will then show off their pictures to friends back home. So the club gets free advertising of their club name. any times alcohol companies will pay for the banner set up if they are allowed to have their alcohol brand printed on the banner as well. It is sort of like product placement in movies.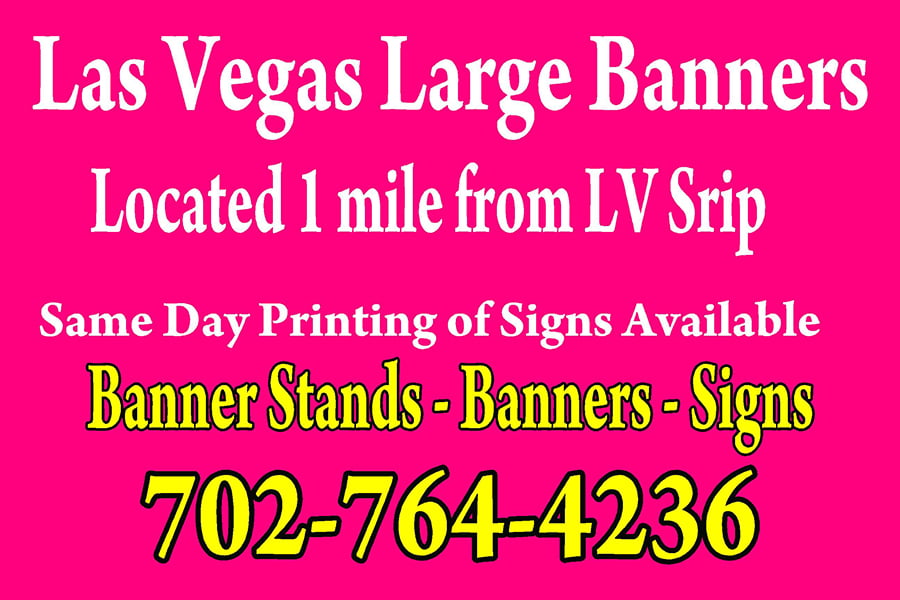 How Are Cheap Vegas 8ft Banners Made ?
Large 8ft sign banners are printed on a 13 ounce vinyl banner material. The banners are full color. So images and pictures can be printed on the banner. The 8ft banners can also be 8ft fabric banners. So this means the fabric banners are printed on a polyester material that allows for a wrinkle free appearance.