8ft convention signs Vegas are in demand for the Las Vegas Nevada conventions and shows. These 8ft trade show signs and 8ft convention banners are perfect for the back of convention display booths. The vendors and companies who are displaying at these events are using them as a large billboard to get people's attention as they walk by. Many times there is confusion at a large event and people will miss a convention booth. But with a large convention backdrop banner at the back of a booth, they will take notice. The companies and vendors are printing images and pictures of their products on these signs. So if the people are interested in what you are promoting, they will wait to talk to a sales representative.
The convention industry is big business in Las Vegas. Las Vegas has three big convention and event venues with over one million square feet of floor space. The largest of the venues, the Las Vegas Convention Center, has over three million square feet of space. So these venues can hold the biggest conventions and trade shows in the world. Many convention backdrop banners and convention signs are needed for these events. Signs such as foam board signage, retractable banner stands and vinyl banners.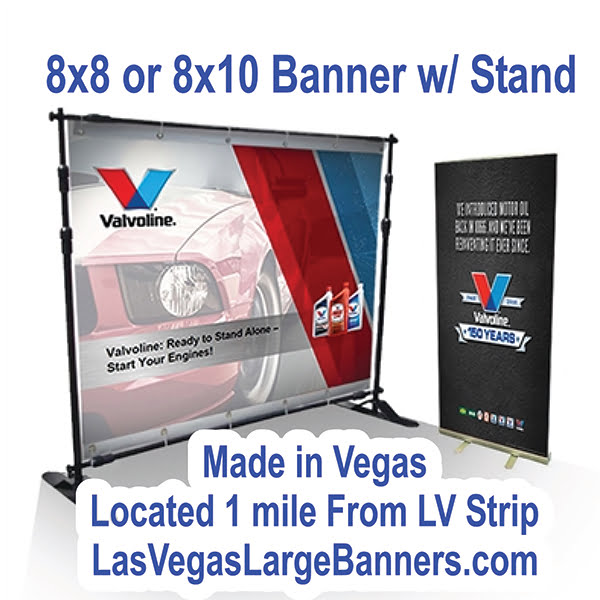 8ft Convention Signs Vegas Can Be Made Fast and Cheap in Vegas
The businesses coming into Las Vegas like to have their signs and banners made in Las Vegas. So this saves money on expensive shipping charges. It also makes sure the Las Vegas convention signs are ready when you arrive. So many times the shipping companies will deliver signage late or damaged. So companies will order signs in advance and just have them picked up when they arrive. Or they will have the signs and banners delivered to their hotel or venue.