Vinyl banners are a low cost approach for sign displaying. The Las Vegas banners are one of the most economical signs you can purchase. The Vegas banners are used by local businesses and at the events and shows in Vegas. The local businesses display these banners Vegas for advertising with great results. In these post covid times, stores are advertising on these banner signs and then displaying them on their buildings. So with the hopes that people driving by will see them and take notice. So with all the new residents moving into Vegas, the banner advertising is getting great results. A simple 4ft x 10ft banner placed on a building can easily be seen by the people driving by. These Vegas banners are cheap in price and will last a long time. That equates to just pennies a day to be seen by thousands of people.
The Las Vegas banner printing is done in full color. So this means you can print basically any color or colors you want on the Las Vegas vinyl banners. Pictures of products can also be printed on the banners along with people's pictures. The banners Vegas are finished with reinforcing the perimeter and grommets every two feet on all four sides.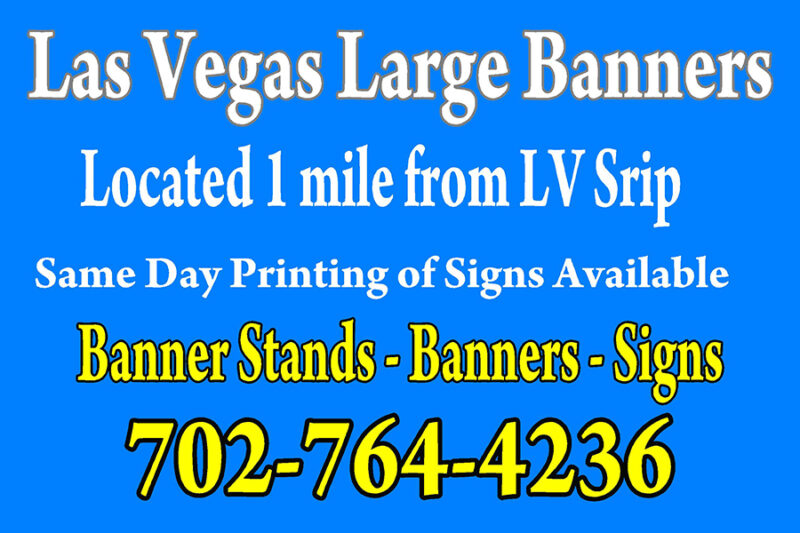 Same Day Vinyl Banners Are Possible
Many times for a variety of reasons, people need same day vinyl banners. So if this is the case your in lick. There are many Vegas banner printing shops that have the ability to print same day and rush order vinyl banners. The speed of the new banner printing machines is incredible. The new sign printers are capable of printing banners at high quality very fast.
Your best chance at same day banner printing is the Las Vegas sign shops near the convention venues. As they tend to have the latest sign making equipment.