Vinyl banners near me is a good search term to use when you are seeking Las Vegas banners. Vinyl banners are a major advertising tool in these tough economic times. Many Las Vegas businesses are printing advertising banners or outdoor banners. With merchandise pictures advertising in order to make the public aware of their store sales. The local stores are getting great results from this low cost advertising approach. It certainly is more cost effective than radio ads or newspaper advertising. The Vegas banners are long lasting. And will easily last more than a year in the outdoor weather of Southern Nevada.
Vinyl banners are full color banner signs. So this means you can print as many colors on the vinyl banners as you like. So this also includes images and pictures of products and logos. The banners can be made in any size o meet your marketing needs. For example, businesses located adjacent to the freeways are using large 8ft banners and large 10ft banners to advertise to the people driving by on the freeway. The large vinyl banners make it easy to see when you are driving on the freeway and looking around. The big banner signs act like a billboard, but without the monthly rental fees. Once installed, these large banners will easily be seen for more than a year. The banners are printed on a 13 ounce heavy duty banner material with eco solvent inks that are environmentally friendly.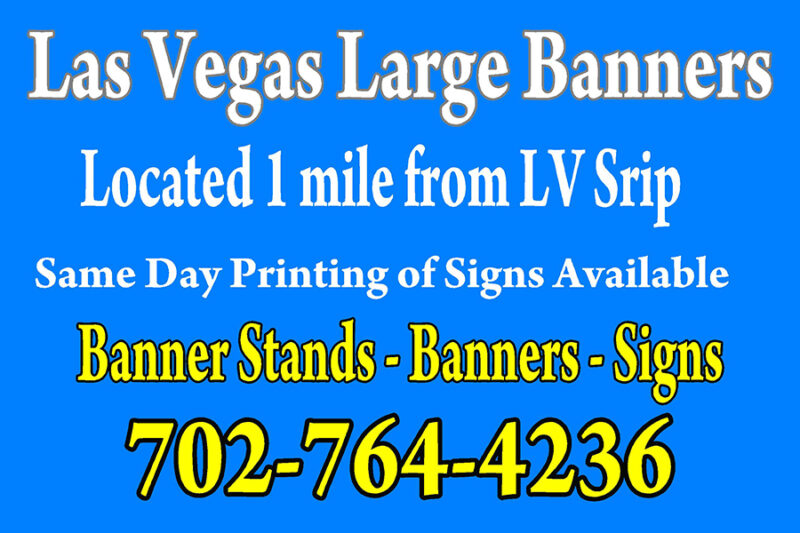 Vinyl Banners Near Me Will Get You Several Banner Sign Options
Many pizza places are making several vinyl banners with food specials on them. So then they are rotating the banners every few weeks. One week they will advertise a pizza special and then a few weeks later they will display a chicken wing banner. They will then wait a few weeks and advertise a spaghetti special. The whole idea being of rotating the banners. So this way the advertising is always fresh and new.