Vegas vinyl banner sign printing is very popular in Las Vegas. Vinyl banner signs are a very low cost advertising method to get your marketing message across. Las Vegas businesses and stores across southern Nevada are using Las Vegas banners as a way to market their products. So also many stores are using large vinyl banners as store frontage signs. These banners act as a way for people to notice their name on their building.
So many stores are also using these Vegas banner signs as sale notifications. The stores are placing large banners on their buildings with their sales merchandise. Or just advertising sales to get people top stop and shop. So the lucky store owners that are on a major street use these vinyl banners. So the people driving by on the major streets get to see there advertisement.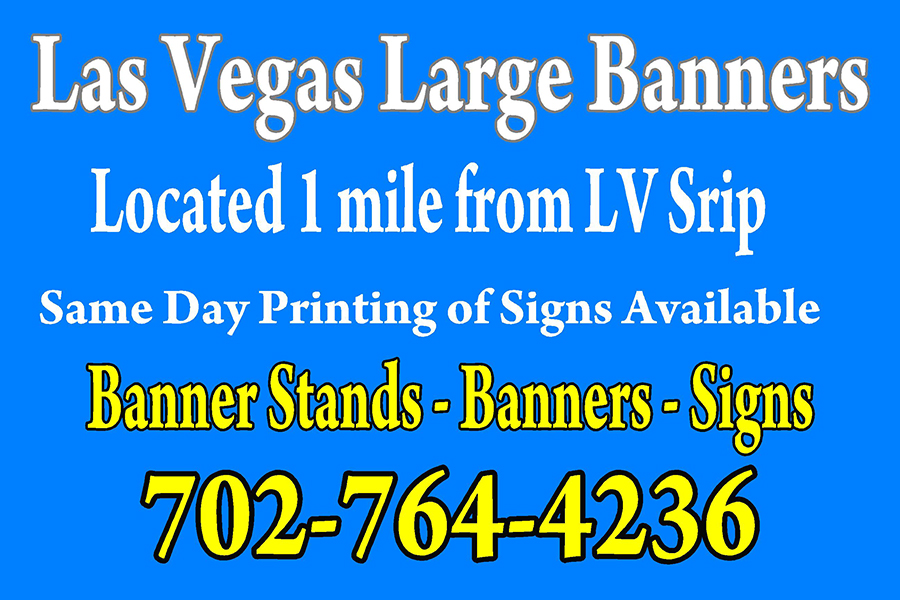 Why Vegas Vinyl Banner Sign Printing ?
Las Vegas stores that are lucky enough to be next to the freeway are using large banners for advertisement. They are placing these lrge banners facing the freeways so that the thousands of people driving the freeways every day see them. This is almost like having a billboard. But without the monthly rental fees. The large vinyl banners will easily last more than a year and is a very cost effective way to get your business noticed.
Las Vegas vinyl banners are printed on a 13 ounce vinyl banner material with inks designed to withstand the weather conditions. So this allows the banner not to fade for a long time. The banners are hemmed on the perimeter for extra strength. Also the banners come with grommets approximately every two feet on all four sides to make it easy to display.
Your Las Vegas sign store will have more information on these great advertising sign banners.