Vegas tradeshow popup banner displays are being used at the trade show venues for backdrop display signs. These tradeshow backdrop display signs come in many sizes to meet your needs. The most common size backdrop banner displays is the 8ft and 10ft displays. These popup display signs come in different kits to meet your needs. The popup displays come in a curved stylish design and a straight design. There is also a 20ft design if you have a large tradeshow booth. So a 6ft tradeshow popup banner display is also available if you want to put it on top of a table.
These tradeshow popup banner signs look great in appearance. They are printed on a fabric material that allows for a wrinkle free appearance. The fabric banner is a full color graphic. So that means you can print as many colors or combination of colors on the fabric banner material as you like. Images and pictures can also be printed on the sign displays as well. The popup signs are easy to set up. A frame is included that you assemble and the fabric material is placed over this frame. During the fabric installation, the fabric banner is stretched a little to give it a wrinkle free look. These banner displays are very common at the Vegas convention and trade show venues.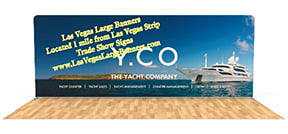 Vegas Tradeshow Popup Banner Displays Can Be Used Many Times
Vegas popup sign displays can be used many times. The fabric banner is machine washable. So after every use you can simply wash it to make it look fresh and new for the next use. So also instead of buying a new pop up display. You can simply just change out the fabric graphic at a reduced cost and use the pop up frame. So this will save you a lot of money if you need different graphics for different events.