Vegas tradeshow display banner signs are in big demand during the busy Vegas trade show season. This trade show season lasts all year. But the majority of shows are during the November thru April period. So many tradeshow banners and trade show signs are needed for these events. These shows keep the Las Vegas sign industry very busy. So that is why there are so many sign shops located in Las Vegas. They tend to locate near the Las Vegas Blvd casinos and the event venues. So by doing so they allow for fast pick up of signs because they are so close. Also the deliveries of signs and banner can be completed quickly. This speed is necessary if sign graphics are needed in a hurry.
Tradeshow banners are not expensive. The sign banners can be made fast and with the highest quality. The tradeshow event banners can be custom printed to any size you need. Large banner signs the size of 10ft tall x 150ft wide are no problem. So the vinyl banners can also be made as small as 1ft x 1ft. All the vinyl banners can be full color and have images printed on them.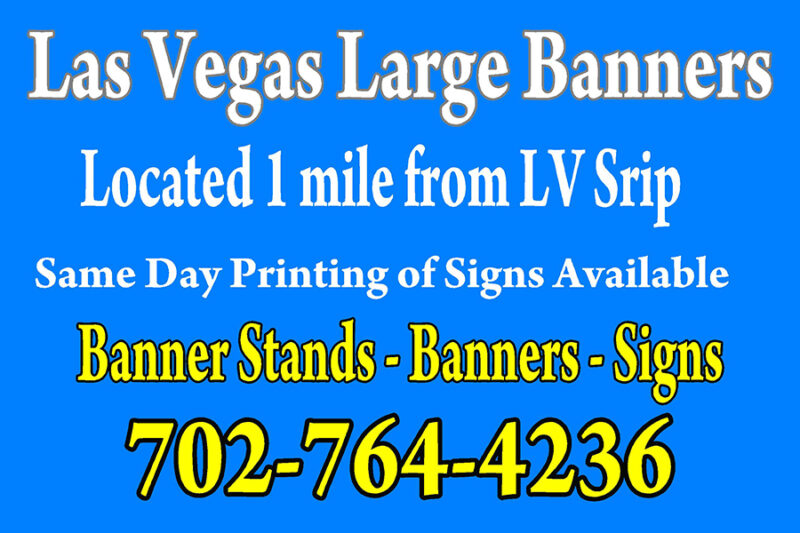 How Are Vegas Tradeshow Display Banner Signs Made ?
Tradeshow banner signs are printed on large format printers. So these banner printing machines can print very fast with high quality. The prices of printing Las Vegas banners has actually fallen because of the speed of these new printers. So more sign production equates to lower cost of producing a banner. This decline in price is passed on to the end consumer. The banners after printing are hemmed on the perimeter. So grommets are then added on all four sides of the banner. So as to make displaying the vinyl banner signs easy.