Vegas tradeshow banner signs are in demand at the trade show venues. The vendors and companies displaying their products at the shows love these cheap vinyl banners. The vinyl banners are cheap enough to print for one show and then simply toss away after the event is over. So these Las Vegas trade show banners are full color. That means you can have as many colors printed on the banner as you like. So in addition you can have pictures and images printed on the banner signs.
Las Vegas trade show banners can be printed in a multitude of custom sizes to meet your marketing needs. So a 1ft x 3ft banner is no problem. Also a large 8ft tall x 10ft wide banner is no problem. So many times the vendors and companies will use large 8ft x 8ft backdrop banners at the back of their display booths. They will print pictures of their products and services on these banners. So everybody that walks by their display booth will get to see what they sell. During the sales presentations, the salesman will refer to the large vinyl banners as part of their sales pitch.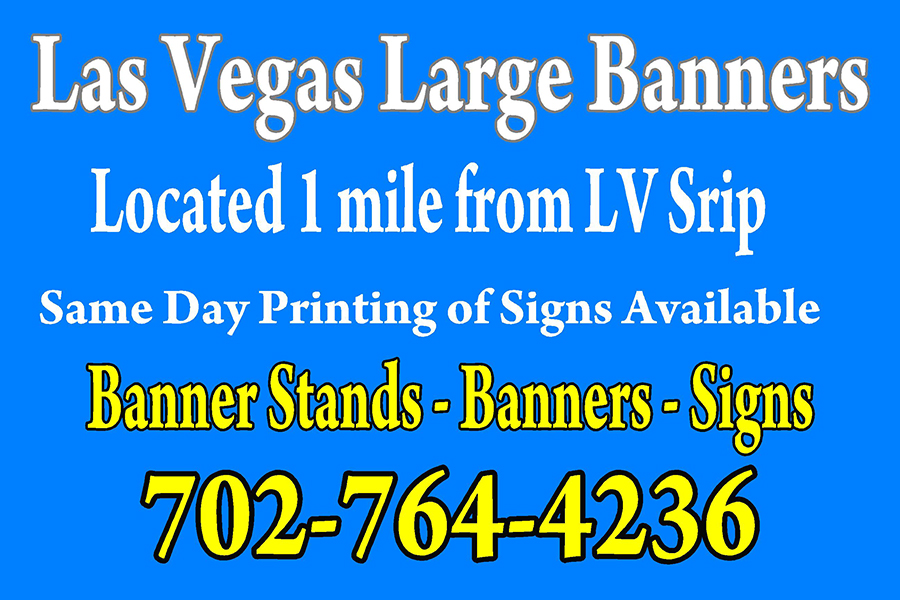 How Are Vegas Tradeshow Banner Signs Printed ?
Las Vegas trade show vinyl banners are printed on a 13 ounce vinyl banner material. Special inks are used that last a long time. So these inks are environmentally friendly and can be used both indoors as well as outdoors. The inks have to last a long time in the hot summer sun without fading. Same day banner signs are possible if it is an emergency. So your local Las Vegas sign company will have more information on these banner signs and other types of signs. Banner signs are cheap and very cost effective.