Vegas popup tradeshow banner signs are well liked by vendors and companies who are showing there products and services. These portable tradeshow signs can be placed anywhere in a tradeshow booth. Because they are self standing and require no support to be displayed. Trade shows and conventions love these types of signs.
Tradeshow banner stands come in an array of sizes to meet your marketing needs. These banner stands range from around 2ft wide to around 4-5 feet wide. The heights or the stands vary because the banner stands have telescopic height poles. These telescopic poles allow for the perfect fit of the banner stand and can be adjusted up or down. Depending how tall the sign graphic is. The tradeshow pull up banner stands also come in economy versions and deluxe versions. The difference between the two is basically a wide chrome base on the deluxe banner stands. So this wide chrome base is very impressive looking.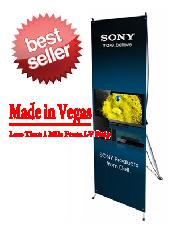 Vegas Popup Tradeshow Banner Signs Include Sign Displays
Las Vegas tradeshow display signs come in kits. So these kits come in three very popular sizes. The first one is the 6ft display sign that fits on top of a table. The second size is the 8ft tradeshow curved display sign. The third sign display kit is the 10ft tradeshow sign display. These sign displays all come with a frame and carry bag. A custom printed fabric banner fits over the frame and is very tight. This allows for a wrinkle free banner appearance. So the fabric banners can be replaced without having to buy a whole new kit. So by just replacing the fabric banner you will save a lot of money. The tradeshow sign displays cost less than six hundred dollars. The fabric banners are machine washable. So each time the display sign is used it will look fresh and new.