Vegas large adjustable banner stands are need for those backdrop banners used at conventions and trade shows. The large banner stands can be sized to 8ft tall x 10ft wide. So that means you can have a banner as large as 8ft tall x 10ft tall. However most banner sizes used for these large display stands are either 8ft x 8ft banners or 8ft x 0ft banners.
Many companies displaying their products and services at the event venues like these large banner stands. They can set up the tradeshow backdrop banners themselves. And save a lot of money by not hiring expensive union labor. The companies can just bring the stand display with them and order a large vinyl banner or fabric banner ahead of time. They can then pick the banners up and set their tradeshow display booth signs up themselves.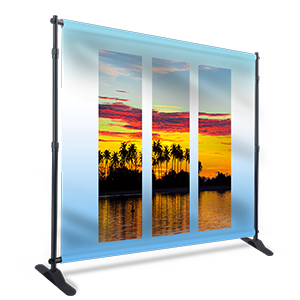 Vegas Large Adjustable Banner Stands are Just Some Of The Signs Needed For Vegas Tradeshows
Foam board signs and custom printing of poster signs are also very popular at tradeshows and events. The foam board signage is considered temporary signage. The foam board are generally used for indoor purposes for short term displays. They will warp if wet and if exposed to hot direct temperatures. The foam core signs look very professional and used on easels and on table tops at events. They are cheap in price and can be made rather quickly.
Custom printed poster signs are also popular at events and shows. These poster signs are easy to print and cheap in price. Companies and vendors will use them for short term signage and then simply throw them away after an event. In some cases they will keep the poster signs for future events. They just wrap them up and stick them in a tube to protect them for the next show.