Vegas dust signs are required by Clark County in there effort to control the top soil going into the air. The dust gets bad in the desert. So the Clark County Dept. of Environment and Sustainability require dust control permit signs to be placed at construction sites. These dust permit signs need to be in compliance with the requirements of the govt. The dust control sign Vegas has to be a certain size along with certain information must be on the dust sign. In addition, the dust sign needs the lettering to be in certain height. Non compliance with all these rules could result in a stop work order. It could also result in govt fines for non compliance.
Clark County requires certain information on their dust signs. The permit number, expiration date of the dust sign and acreage needs to be printed on the dust permit sign. In addition, the permittee, contractor name and contact information also needs to be printed on the sign. So also the Dust control phone number for reporting any violation needs to be on the sign. So then the signs also has to be placed in certain ways to be in compliance. mainly the sign has to be near the front of the site. That allows it to be easily be read by interested parties.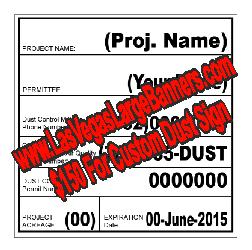 Same Day Vegas Dust Signs Are Available
Sometimes things do not go right and you will need a same day dust sign or rush dust sign. The dust sign will be damaged beyond repair or it might have been stolen. The homeless sometimes forage construction sites for material to build temporary shelters. If this is the case, many Las Vegas dust sign companies have the ability to make your dust signs fast.
So contact your local dust sign company for more information on prices and completion time of your custom dust control sign.