Vegas discount backdrop banners are great when you need a large background banner sign. Backdrop banners are very popular at outdoor events and conventions. The discount backdrop banner signs are used behind the stage at outdoor events and are very large. So the cheap large backdrop banner signs are also used at conventions and trade shows. Vendors will place these large banners at the back of their display booths. So then they use them as sales props to help inform the customer about their products and services. The vendors will place their show specials on the banners and print their product images as reference.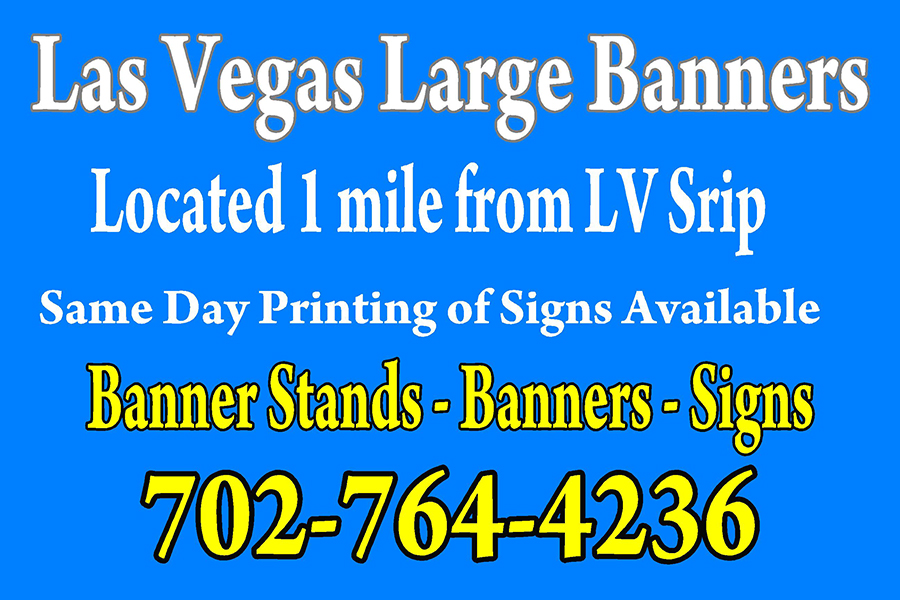 Vegas Discount Backdrop Banners Can Be Printed on Fabric
Las Vegas discount banners are printed on a 13 ounce vinyl banner material. These signs can also be printed as fabric backdrop banners. Instead of a heavy vinyl banner material they use a polyester fabric material. This fabric polyester material allows for a wrinkle free sign. So since it is polyester, the fabric banner is machine washable. This allows for a fresh new look every time the fabric banner is used.
Discount large banners are finished with hemming on the perimeter and grommets on all four sides. Also they can be finished with pole pockets at the top and bottom. So this allows for a pole to go through the pole pocket to be displayed. The pole at the bottom keeps the banner tight and wrinkle free.
These large banners can be used many times over. They are printed in full color. So this means you can have images and pictures printed on your banner sign. Adjustable banner stands to hold these large banners are also available at your local Las Vegas banner printing store. These banner stores that print these large banners are located near the convention venues.