Vegas custom banners can be made to any size you need. So from a basic 1ft x 1ft banner to a 10ft by 50ft vinyl banner. These vinyl banner signs are full color banner graphics. So this means you can have as many colors printed on the banner as you like. Also you can have pictures and logos printed on the vinyl banner signs. The vinyl banners are perfect for delivering your marketing message to your target market. The vinyl banners are cheap in price. Also they will last for a long time. The custom banners can be rotated so that your marketing message always appears to be changing.
Using vibrant and bold colors on your banner will get people to notice your signs. So it is important to use attention grabbing colors and easy to read text. Using fonts that are easily readable will get more engagement of your advertising. As people want simplicity when looking at signs and vinyl banners.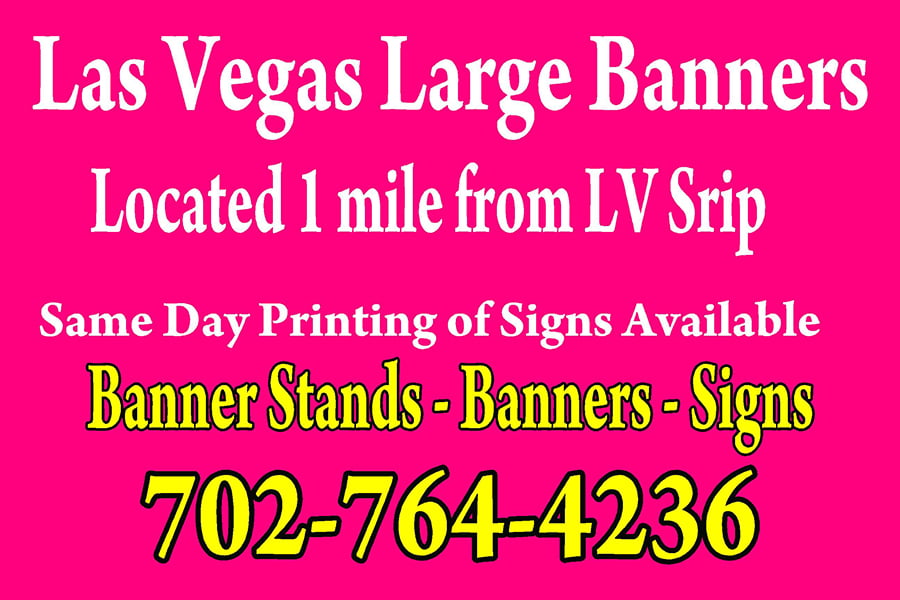 Vegas Custom Banners Are Not Expensive
Vinyl banner signs are a cheap way to advertise. So many businesses in these tough economic times are using banners as advertisement. Larger businesses next to the freeway are using these custom vinyl banners to advertise to the people driving by on the freeway. A large banner on the back of a building can be seen from far away. People on the freeways are looking around while they are driving and see these large banners and take notice. Businesses employing this banner advertising record additional business as a result. These large vinyl banners are like a billboard. But they do not come with monthly rental fees.
Vinyl banners are printed on a 13 ounce vinyl banner material with eco solvent inks. These inks are environmentally friendly and ecologically sound. So the inks are designed to last a long time in the heat of Southern Nevada. The banners are finished with a hemming on the perimeter for strength. Also they have grommets strategically placed every two feet on all four sides. So that they can easily be hung and displayed.
Conclusion
The new modern banner printing machines have never been faster and with higher quality. The cost of producing the vinyl banners has dropped with the increased production of the printing of signs and banners. So contact your local Las Vegas banner store for more information. Las Vegas banners are a great way to advertise your event or business.