Vegas custom banners near me will get you your custom vinyl banners printed. Many local businesses are turning to custom banner signs as a form of advertising. So with the cost of print ads and mailers being cost prohibitive. Las Vegas stores are going to outdoor vinyl banners as a way to advertise to their customers. Smart businesses are placing large vinyl banners on their buildings. So that they can be seen by all the cars that pass by their store every single day. the Nevada govt studies indicate that the traffic counts on the major streets are up drastically in Vegas. Since more and more people are coming to live in Vegas. They are mainly California transplants looking for affordable housing.
Vinyl banners placed on stores and buildings are bring success. So this low cost adverting approach is working great for many businesses. A large vinyl $100 banner last well more that a year in the outdoors. This banner sign will be seen by literally thousand of people a day. So that equates to pennies day to be seen by thousands of people. What a bargain !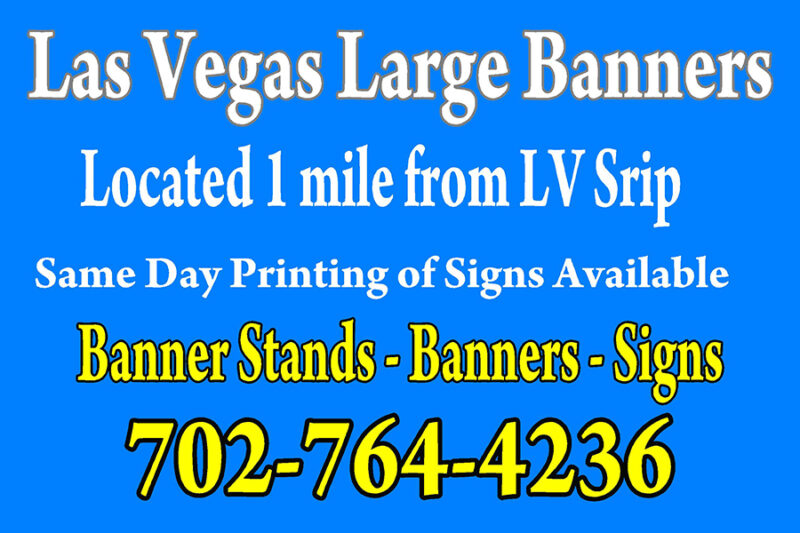 Vegas Custom Banners Near Me Are Not Expensive
Vegas custom banner printing costs around $3.00 a square foot. For the large vinyl banners, the price goes under $3.00. So contact your local Vegas banner store for more information about price rates.
If your store is located close to the freeway, you hit the jackpot. These businesses adjacent to the freeways are placing large vinyl banners on their buildings. So as to get the attention of the people driving on the freeways. The custom banner signs act like a billboard and can be seen from far away. So as people are motoring by on the freeway. They see what you have printed on your custom banner. ( Please note that a simple banner is best for this type of advertising ) At 65 mph you only have a few seconds to read and comprehend the advertising on the banner. So a uncluttered vinyl banner is best.