Vegas custom banner printing can get those banner signs printed for you exactly the way you want. Each business is different and custom vinyl banners allows you to print what you want on the Las Vegas banner. Also this means any color or combination of colors. Whether it is a outdoor or indoor banner. Banner size can also be your choice. So you can either make a small 2ft x 3ft banner or a large 8ft x 30ft banner.
The banners Las Vegas are printed on a 13 ounce vinyl banner material with solvent inks. So the solvent inks help make the vinyl banner last a long time in the outdoor weather. The inks are designed not to fade in the intense heat of the summer sun in Southern Nevada. After banner printing, the banners are hemmed on the edge to add strength where the grommets are placed. The grommets allow for easy displaying of your banner sign. They are placed approx. every 2ft on all four sides of the banner.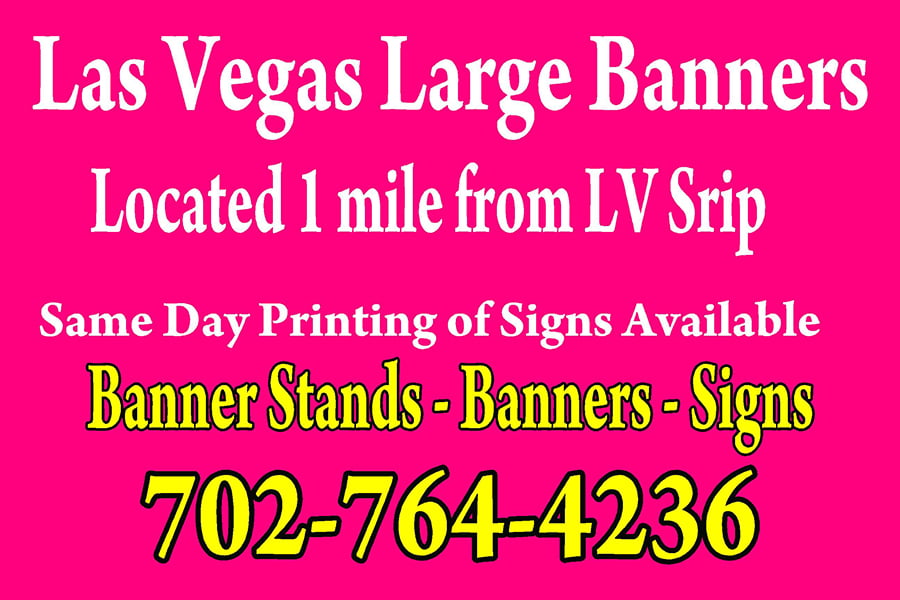 Vegas Custom Banner Printing is Great For Conventions.
Las Vegas banner printing is a must for vendors and companies coming to display at the trade shows. Each company is trying to stand out from the competition. Unique banner signs is just one way to do that. So the custom banner can have your company logo on it along with pertinent information about your company. Also in any color that you like.
Using vibrant and bold colors on your Vegas banners is one way to get them noticed at trade shows and conventions. A well designed banner with lots of colors is easily identifiable. The colors of the banner will attract people from all around the venue. Making your text and choice of fonts clear and easy to read will help people understand your signage. The banners Las Vegas can be printed in many sizes to meet your marketing needs.
Hundreds of trade shows and conventions occur annually in Vegas. So these events attract millions of people from around the world. Custom signage is badly needed at these events. Many companies choose to make large banners and place pictures of their products on them. So the vinyl banners are then displayed prominently in the display booths. Sales people use them as a reference as they talk to potential customers. While most of these large banners are printed on vinyl banner material. Fabric banners are also gaining in popularity as a form of banner signage. These fabric banners offer a wrinkle free choice. But they are slightly more expensive than vinyl banners and more fragile.
Conclusion
Your local Las Vegas sign shop can assist you in determining what banner material is best for you. Vegas sign shops compete for your convention business and offer you the best price possible. So shop around if you need some banner printing for your event. As there are many banner stores in Las Vegas that want your business. The sign shops near the convention venues seem to have the newest sign making equipment. Many of the sign shops offer delivery or fast pickup of your trade show signs. As they are usually close to the convention venues.