Vegas convention custom banner printing is liked by the vendors and companies showing off their products. At the trade shows and conventions. Vendors and companies are always looking for inexpensive signage for events and convention banners are just one low cost form of signage. These banner signs can be custom made to any size you like. So whether its a simple 2ft x 4ft banner of a large 10ft tall x 60 feet wide banner. These trade show banners can be made to your specifications. The vinyl banners are full color. That is a nice way of saying you can have as many colors printed on your banner as you like. These are not just one color banners.
These custom printed banners make for great display booth backdrop banners. Vendors will place these large backdrop banners at the back of their display booths. So this way when people walk by they can see what you are promoting. These backdrop banners are generally 8ft x 8ft banners or 8ft x 10ft banners. So adjustable banner stands are available to hold up these large banners. These banner stands can be placed anywhere because they are self standing. So the large banner stands and large banners can be used multiple times. Also fabric banners are available for a professional appearance. These fabric banners are wrinkle free and look quite nice at trade shows and conventions.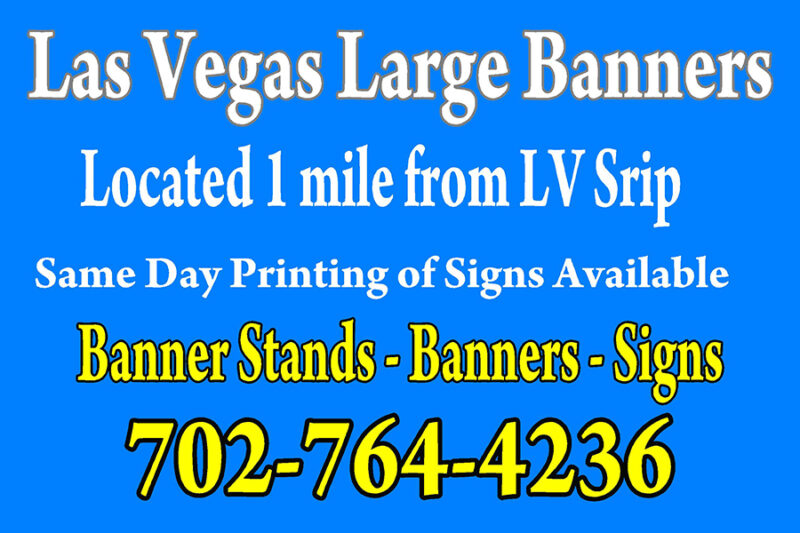 Vegas Convention Custom Banner Printing Is Printed on Large Sign Printers
Large printers print these Las Vegas banners fast with high quality. The newer state of the art printers are very fast and good. The inks used are environmentally friendly and ecologically sound. But they bring out the bold and vivid colors of your design. Contact your local Las Vegas banner printer for additional information.