Vegas cheapest tradeshow banners is a major plus for vendors and companies that are showing off their products. Las Vegas is the number one destination for trade shows and conventions in the United State. So it seems everybody wants to have their business events in Las Vegas. So why not ? Las Vegas is a fun place and has many convention venues that are state of the art. There are three very large convention venues in Vegas that have well over one million square feet of space to hold the biggest conventions. These venues are so large that they can literally have several conventions taking place at the same time under one roof.
So many retractable banner stands and banners are needed for these events. Along with many other types of signage. Tradeshow vinyl banners are very popular because they are so inexpensive. So add in the fact that they are custom made to any size and can be printed in any color. This makes the vinyl banners very popular with companies displaying their merchandise at these conventions and trade shows. In addition pictures of products can be printed on the banner and referred to during the sales presentations.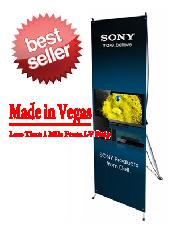 Vegas Cheapest Tradeshow Banners Are Not Expensive
Las Vegas banner printing has come down in price over the years. So this is because the banners are printed on newer state of the art printers. These printers can print signs and banners very fast and with the highest quality. So the more signs and banners you can print per hour means lower prices. This price reduction is passed onto the consumer. So vendors and companies coming into Las Vegas for the event love the low prices and fast service. Your local Las Vegas sign banner store will have more information on cheap banners and signs.