Vegas cheap pullup banners are great signage. So many events and exhibitions take place in Las Vegas every year. These vents attract hundreds of companies and vendors who display the most advanced products.So these events attract millions of people who drive the Las Vegas economy. Pull up banner stands are one of the most popular signs at these events. These banner stands are portable and are self standing. So they are also inexpensive and can be used many times at the different events. A free carrying case comes with all standup banner stands that make them easy to transport.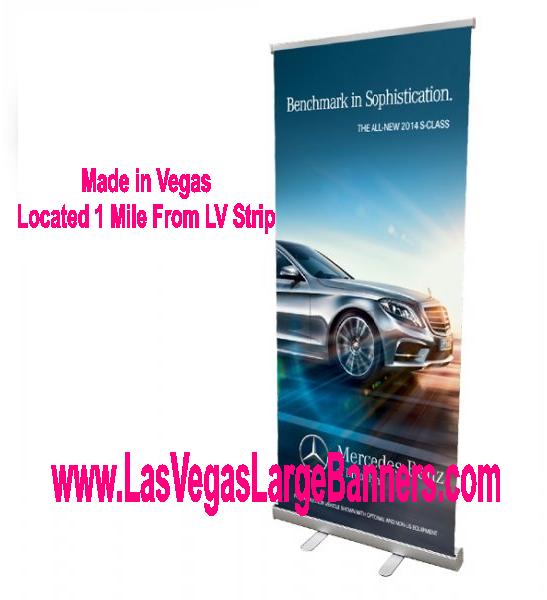 Vegas Cheap Pullup Banners Can Be Printed Same Day
Many times people and companies displaying at the event venues need same day pullup banner stand printing. This is because they had their signage made back home and shipped it into Las Vegas. So many times the shipping companies will not deliver the signs on time or not at all. Also damaged signage is a problem with shipping companies. So regardless of how it happened, Las Vegas sign shops have the capability of rush order banner stand printing. Large format printers do most of the work. These sign printers have never been faster and with higher quality than ever before.
The most common size pullup banner sign is the 33″ x 78″ retractable banner stand. This model is the economy model and comes with a height adjustment pole. So you get the perfect fit of your banner graphic on the stand. No bleed is required for printing or installation. The banner stands available are from about 33″ wide to around 5 ft in width. The stands have varying heights. But with the telescopic pole you can adjust the height on any stand to fit your graphic. Contact your local Las Vegas sign store for more information.