Vegas business banners are very successful in this inflationary economy. Small businesses in Vegas are having great advertising success by placing banner signs on their property . So as the people drive or walk by, they see the advertising vinyl banners. The stores are printing merchandise or service specials on these Vegas banners and doing very well.
Some Vegas stores have taken it a little further and rotate their banners. One Mexican restaurant will put up a Vegas banner advertising a bean burrito for a low price. While the bean burrito does not make a lot of money, the people will order drinks and other food. Then after a few weeks, they will put up a banner Vegas advertising taquitos. So then a few weeks later, they advertise a taco plate and so on. The whole purpose is to constantly put new advertisement in front of people and drive traffic. In total, they have six of these vinyl banners made and simply rotate them.
The stores adjacent to the freeways are placing large banner signs on their property. They display them at the back of the stores where they face the freeways. So the Las Vegas banners get exposed to thousands of vehicles driving the freeways every single day. One such example is at the spaghetti bowl in Vegas. The furniture stores display their banners to entice you to buy furniture, kitchen sets, etc. These large banners are working for them very well.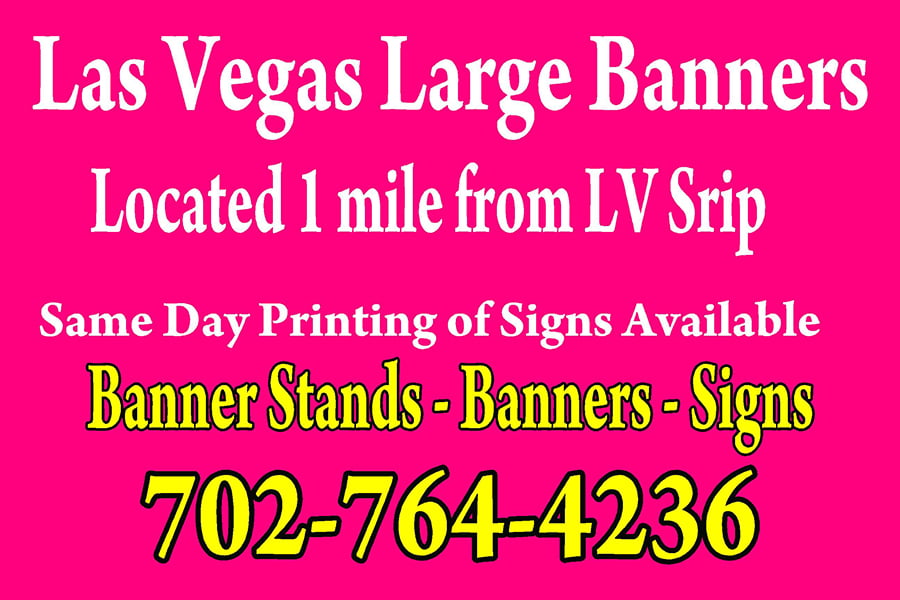 How Are Vegas Business Banners Made ?
Las Vegas banners are printed on a 13 ounce vinyl banner material with solvent ink. This ink is designed to last a long time. Especially in the hot summer sun of Las Vegas. The vinyl banners are then hemmed on the perimeter for additional strength. So then grommets are placed every two feet on all four sides to make it easy to display. Your local Vegas banner store will have more information.