Vegas big backdrop banner signs are being used at the many shows and events held in Las Vegas. These large background banners are great for displaying and promoting your event. These large background banners can be custom made to whatever size you need for your event. The two most popular sizes are the 8ft x 8ft backdrop banner and the 8ft x 10ft backdrop banner. So in addition to these sizes, the banners can be as big as 10ft x 30 feet long.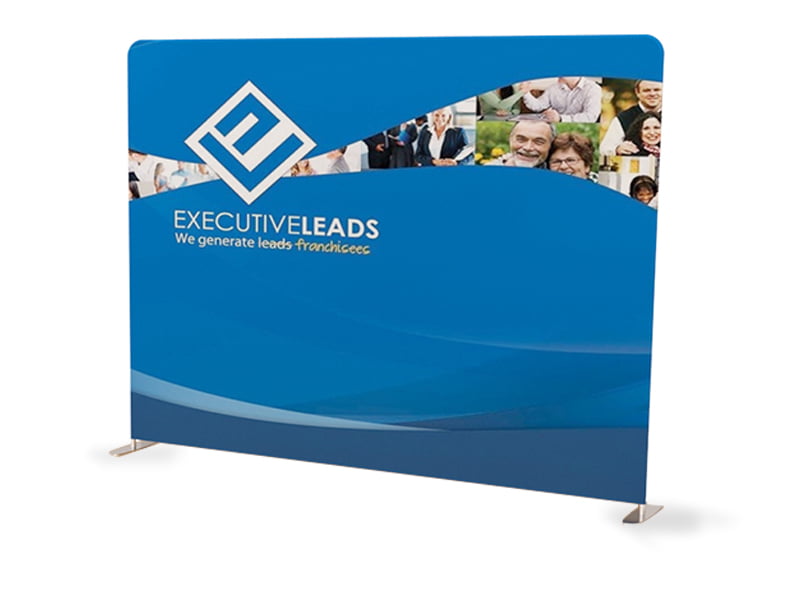 Vegas Big Backdrop Banner Signs Are Popular At Conventions
Large backdrop banner signs can be made with 13 ounce vinyl banner material. Also fabric backdrop banners can be made with a polyester material. Many companies are shifting away from large vinyl banners and going to the fabric banners instead. The fabric backdrop banners are wrinkle free and display very nice. So the fabric is more delicate than a 13 ounce banner and extra care needs to be taken. It is much like a woman's dress material and can tear if snagged. So the good thing is that the fabric background banners can be machined wash so they look new and fresh at every event.
Large backdrop banners in either fabric or vinyl banner material can be finished with grommets of pole pockets. A pole pocket is a 2″ or 3″ gap at the top and bottom that a pole slides through. This pole allows for the banner to be displayed. So the banners can also be finished with grommets on all four sides for easy hanging as well.
Big backdrop banner signs are usually ordered in Las Vegas . As it is costly to ship large banners because of their size and length. The Vegas sign shops that are near the convention venues are usually the sign shops that service the events and shows. They can get you the best deals on your large backdrop banner printing.