Vegas banner signs are a low cost approach to advertising. Las Vegas banners are cheap in price. They can be custom made to any size and be full color. Full color meaning you can have your Las Vegas banner printer print as many different colors on the Vegas banner as you like. So this also includes printing of images and pictures on the vinyl banner. So smart businesses are using these vinyl banners as advertising. They are simply printing custom banner signs and displaying them on their buildings and fences. So in order to get the attention of people passing by. Las Vegas has many new residents driving on the city streets. These new residents are looking in their neighborhoods for places to shop. So by placing Vegas banners on your building, you are letting them know what kind of store you are.
Las Vegas bars and restaurants are using temporary vinyl banners as a way to communicate with customers. They will advertise food or drink specials on the banner. So as to entice people to come into their establishment. They will rotate these Vegas signs every so often. This allows for a fresh appearance and people always look to see what the latest food or drink special is. These local businesses are using these inexpensive vinyl banners very effectively. They also can simply just make three or four banners and rotate them. The Vegas banners are producing great success. it just adds up to pennies a day for advertising.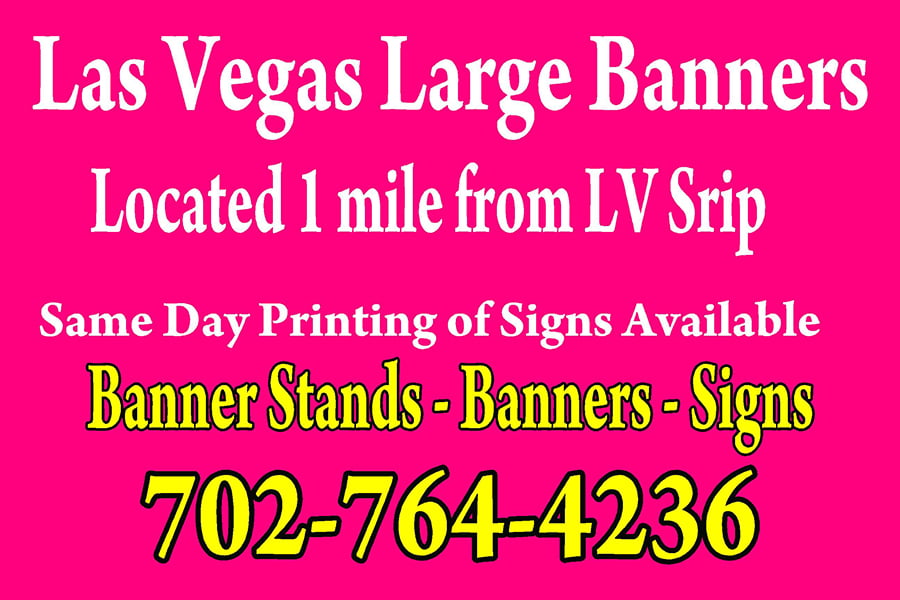 Vegas Banner Signs Can Be Made Fast and Cheap
Changes in printing technology has allowed for faster printers than ever before. So besides being faster, Las Vegas banner printing stores can print vinyl banners in higher quality. The inks used are environmentally friendly and ecologically sound. So these banners will last a long time in the outdoor weather of Southern Nevada.