Vegas backdrop banner printing leads to those large backdrop banners needed for the trade shows and conventions. Tradeshow backdrop displays are the new trend for vendors and companies displaying at the convention venues. These convention backdrop banners are great for the rear of display booths. The companies will set these sign displays up so that people walking by will see them. The companies will print pictures of their products and services on these large backdrop signs. So the people can easily identify who they are and what products they are promoting.
Conventions and events are big business in Vegas. Many people do not realize that Las Vegas is a major world wide destination for trade shows and conventions. Nevada has the infrastructure in place to handle the largest of conventions and events. There are hundreds of thousands of hotel rooms, fine dining and world class entertainment to keep people busy before and after the events. So throw in the fact that Las Vegas has state of the art convention venues with over one million square feet of floor space. You end up with the ability to handle the largest conventions in the world. Many stand up banner stands, foam poster board signs and tradeshow banners are needed for these events.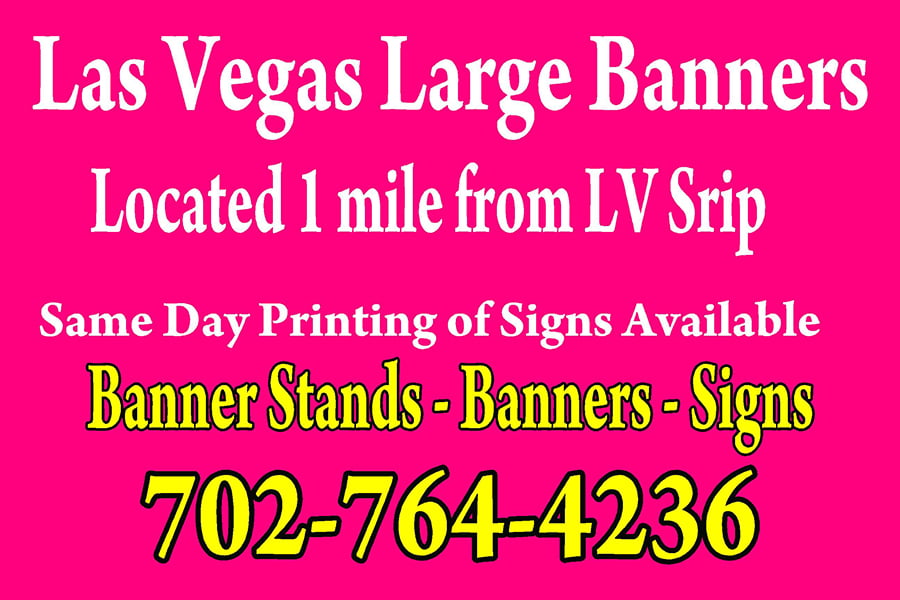 Vegas Backdrop Banner Printing Take Many Forms
Las Vegas banners can be used for the backdrop banners. These are just large vinyl banners attached to an adjustable banner stand. The typical size is 8ft x 8ft or 8ft x 10ft. These banner stands adjust so the sizes can vary. So the banner stands are adjustable which makes them popular becasue they are self standing. Trade show display signs can also be used. These trade show display banners come in kits ready to assemble. They also come with a travel bag which allows for easy transport.