Vegas back drop banners are used a lot at the many events ans hows held in Southern Nevada. These backdrop banners fit great at the back of display booths at the convention venues. There are hundreds of these events and shows held yearly in Vegas. These events attract thousands of vendors and companies who promote their products and services. So in return, millions of interested people from all over attend to find out the latest products. So many Vegas signs and tradeshow banners are needed for these events.
The most popular backdrop signs are the 8×8 back drop banner and the 8×10 back drop banner. These two banner signs seem to fit the rear of display booths the best. The large banners are held up by an adjustable banner stand that actually adjusts to the height and width of the banner. So the vendors and companies displaying at these events. Will print pictures and a brief description of their products on these vinyl banners. The Las Vegas banners can also be printed on fabric banners. So this way as the people walk the event or show, they cannot help but notice your large backdrop banner sign. When they stop and look at your banner, your sales team members can approach them and answer any questions.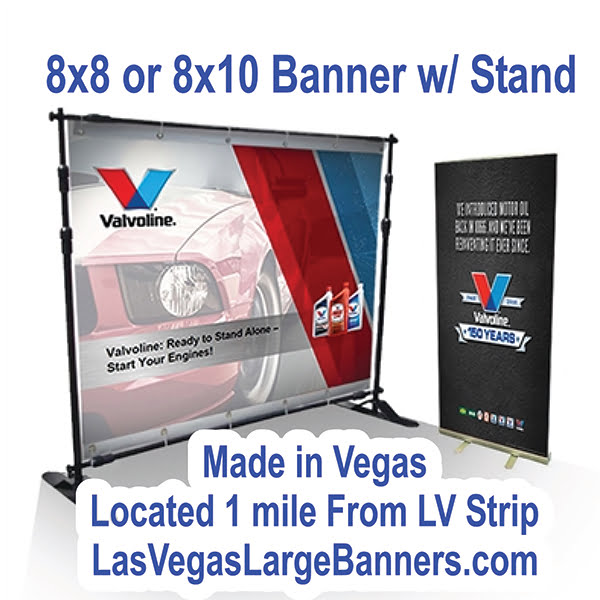 How Are Vegas Back Drop Banners Made ?
These back drop signs are full color. Meaning you can have as many colors or combination of colors printed on the back ground banner. Pictures and images can also be printed on the banners as well. The event banners and signs are easy to set up. You can walk right into the event venues and set up the back ground sign in about 10 minutes. You do not need to hire expensive union labor.
So contact your local trade show sign company in Vegas to assist you in getting these great marketing signs.