Vegas 8×8 step repeat banners are great for conventions and trade shows. Also the step and repeat vinyl banners are popular in the Las Vegas night clubs. Night clubs like to have their name and logo on the banner. So that customers can take their pictures against the banner. The tourists then take their pictures back home and show off to their friends. The name and logo on a step and repeat banner can be seen from any angle. It is free publicity for the night club. The friends then come to Vegas and party at the same club and have their pictures taken against the backdrop banners.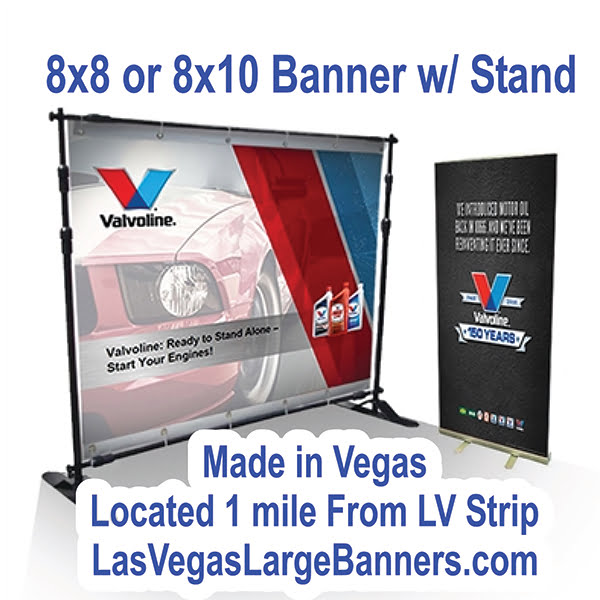 Vegas 8×8 step repeat banners Are Popular At Conventions and Trade Shows.
The step and repeat vinyl banner signs are being used at conventions and trade shows. The vendors or companies displaying at these venues love step and repeat signs. They will print their company name or products on the banner repeatedly so they are very visible. They will then place these vinyl banners at the back of their display booths so that everybody can see them as they walk by. If a salesman is talking to the customer. They can use the step and repeat backdrop banner as a reference.
The usual substrate for a step and repeat banner is 13oz vinyl banner material. However, Fabric step and repeat banners can be printed as well. So fabric banners have an advantage over vinyl banners. Because the fabric banners are wrinkle free. So the fabric banners are printed with polyester material that allows for a wrinkle free appearance. In addition, the fabric step and repeat banner can be machined wash after every event. This will make it look fresh and new for the next show.
Contact your local Yelp 5 star step and repeat banner store for more information. Step and repeat banners work. Take advantage of these great Vegas banners for your business.