Las Vegas 10ft convention sign display signs are great for trade shows and conventions in Las Vegas. Millions of people come annually to Vegas for the many events and shows. Hundreds of companies from around the world come to Vegas to show off there newest and best products at these events. These conventions are a lifeline to the Las Vegas economy. So many of the companies and vendors that come to Vegas use Las Vegas sign shops to produce their signage for the events. The Vegas sign stores make banner stands and vinyl banners. Also coroplast signs and foam board signs.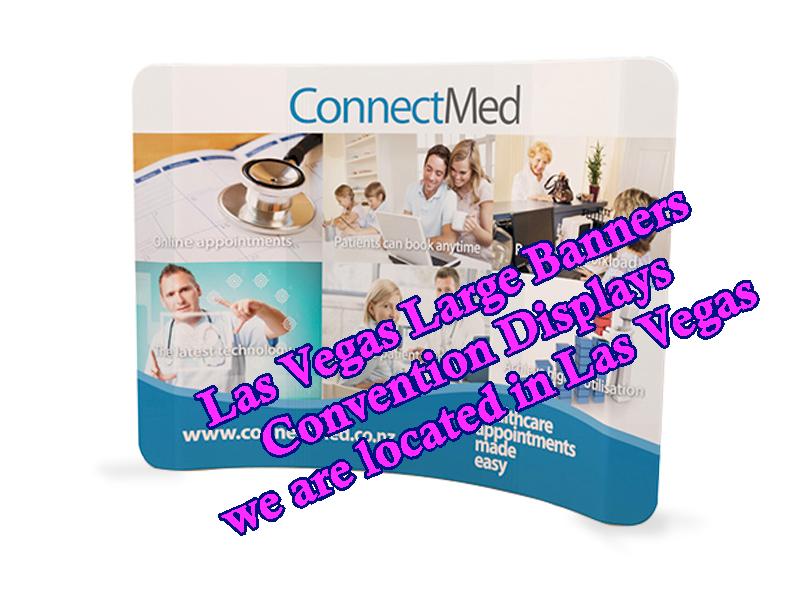 Are Vegas 10ft Convention Display Signs Expensive ?
Trade show signs are also very popular at the convention venues. These fabric display signs are popular in the 8ft display sign and 10ft display sign designs. So both these backdrop display banner signs sell for less than $600.00 A three or four day turnaround is required for these trade show background display signs.
The 10ft backdrop convention signs use a fabric polyester covering that allows for a wrinkle free appearance. The fabric fits over the frame that is included and zips shut. The tension on the fabric being stretched over the frame gives it a wrinkle free look. The convention display signs are easy to set up and two people can do it in less than 10 minutes. The fabric display comes with a travel bag for easy transportation.
Best of all the fabric can be replaced separately without having to buy the whole display. This is great when you do multiple conventions with different marketing messages. It would save your company a lot of money.
Contact your local Las Vegas sign store for more information on these trade show backdrop displays. The sign shops close to the Las Vegas strip are the sign shops that service the conventions and trade shows.