Many types of large banners are being used at the shows and events in Las Vegas. These large banners are also being used by local businesses for promoting their stores and products.
Las Vegas is a top destination for events and shows in the world. Many trade shows and conventions and other events take place in Sin City. So many large banner signs are used at these events. The vinyl banners are cheap in price and are custom made. The backdrop display banner is just one type of banner signs used at events. These backdrop display banners are placed at the back of event booths. So as the attendees walk by, they can see what you have printed on your banner. Many companies will print pictures of their products on these trade show backdrop displays. So then as people stop and look, the sales team has the opportunity to speak with the attendees. And then use the big banner signs as a reference during the sales speech.
Large banners have long been a powerful marketing tool in the world of advertising and communication. Whether used for marketing, branding, or delivering a message to a large audience. These attention grabbing sign displays come in a variety of types. So each with its unique purpose and characteristics.
There Are Many Types of Large Banners Being Used
Vinyl banners are perhaps the most common type of large banner seen in various settings. These banners are made from durable vinyl material and known for its weather-resistant properties. So thus making them ideal for both indoor and outdoor use. Vinyl banners can be customized to fit any size and design. Allowing businesses displaying companies to create eye-catching displays for a range of purposes.
These Las Vegas banners are commonly used for advertising events, sales promotions, and trade show events. The banner signs are easy to install, whether hung from ceilings, affixed to walls, or displayed outdoors on fences or buildings. Vinyl banners are known for their vibrant colors and crisp graphics. Making them an effective tool for attracting attention and conveying marketing messages.
Mesh banners are a special type of large banner sign designed for outdoor use in windy conditions. They are made from a perforated material that allows air to pass through the banner instead of against it. It allows the reducing of the wind load and preventing the banner from being torn or damaged. Mesh banners are an excellent choice for events, festivals, and outdoor advertising. Where strong winds can damage a solid vinyl banner.
These banners are typically used in high-traffic areas like construction sites, sports events, and outdoor concerts. They provide good visibility while ensuring that the banner remains intact, even in adverse weather conditions. The perforations in the material do not compromise the quality of the graphics, ensuring that your message remains clear and impactful.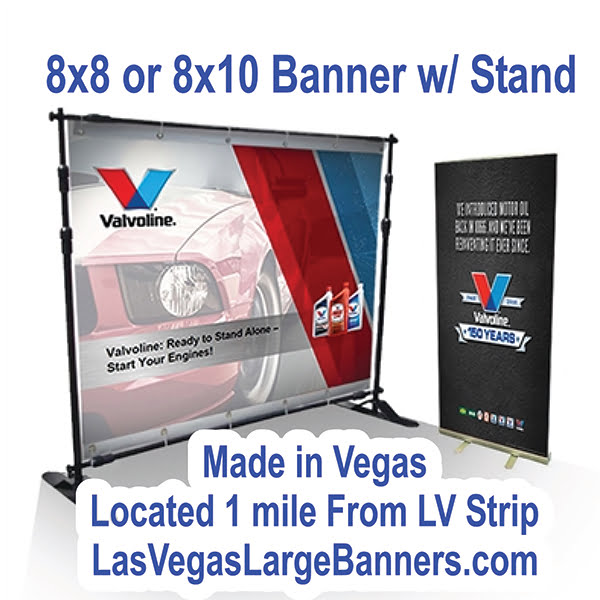 Large Fabric Banners Make For Great Backdrop Signs
Fabric banners offer a more sophisticated and upscale option compared to traditional vinyl banners. They are made from high-quality fabrics like polyester. Giving them a luxurious and elegant appearance. Fabric banners are often used for trade shows, corporate events, and upscale retail displays. These fabric banners are used at Hollywood movie events and award ceremonies. So movie stars stand in front of these fabric backdrop signs and have their pictures taken. They usually have a step and repeat type pattern on the fabric banners with the ceremony's name or logo so it shows in the pictures. The pictures are then displayed on television or in newspapers giving advertising to the host.
One of the advantages of fabric banners is their versatility in printing. These banner signs can be printed using various techniques such as dye-sublimation, which results in vibrant, long-lasting colors and high-resolution graphics. Fabric banners can be customized in different shapes and sizes. And they are easy to transport and set up at various events. The fabric banners can be folded up and put away in a box rather than a bulky vinyl banner that has to be rolled up.
Retractable Banners Can Be Large Sized
Retractable banners are also known as roll-up banners or pull-up banners. These retractable banners are a popular choice for trade shows, conferences, and retail displays. These banners come with a retractable mechanism that allows them to be easily set up and taken down. The set up time for a banner stand is about a minute.They are compact, lightweight, and highly portable. Making them an excellent option for businesses on the go and for events.
Retractable banners are known for their convenience and quick setup. They typically come with a sturdy base that holds the banner in place and can be adjusted to different heights. The banner itself is made from vinyl or fabric. Providing a professional look and feel. These signs are also inexpensive, come in many sizes and are portable. They are self standing which gives them great versatility.
Step and repeat banners are a staple at red carpet events, press conferences, and high-profile gatherings. These banners feature a repeating pattern of logos or graphics. Providing a backdrop for photographs and interviews. Step and repeat banners are designed to maximize brand exposure and visibility in media coverage.
The key to an effective step and repeat banner is in the designing and printing. Logos and graphics must be perfectly aligned. So as to ensure a seamless backdrop for photographs. They are typically printed on fabric to achieve a polished and professional appearance. Step and repeat banners are an essential tool for businesses and organizations seeking to enhance their their branding in the public's eye.
Conclusion
Large banners are a versatile and impactful signage for conveying messages, promoting products and brands. Whether you opt for vinyl banners, fabric banners, or specialized options like mesh banners and retractable banners. So each type offers unique advantages suited to various settings and purposes. So contact your local banner printing store today and see how these large banners can help your event or business. Las Vegas sign shops can make them cheap and fast. There are many types of large banners. So ask your local sign shop which one is best for you.