Tradeshow backdrop sign printing Vegas will get you those background signs needed for your display booths. Backdrop banners are becoming the norm at trade shows and exhibitions. The sales companies and businesses are placing these convention backdrop signs at the rear of their booths. So this way when people are walking by, they can see what items you are promoting. Smart people are printing pictures of their goods and services on these backdrop displays. So the people will see them as they walk by and take notice. Many times people get so busy at a trade show or convention that they miss booths. Because there is so much to see.
There are hundreds of events and shows in Las Vegas every year. While all the major strip casinos have meeting rooms that are quite large. These meeting rooms can be as small as 1000 sq ft up to around 200,000 square feet. Throw in the fact that Las Vegas has three very large trade show venues. These large venues have well over one million square feet of floor space. The largest of the venues, the Las Vegas Convention Center has well over three million feet of convention space to hold the biggest events. All told, Las Vegas has millions of square feet of convention space and all the amenities to support it. Many pull up banner stands, foam board signs and vinyl banners are needed at these events.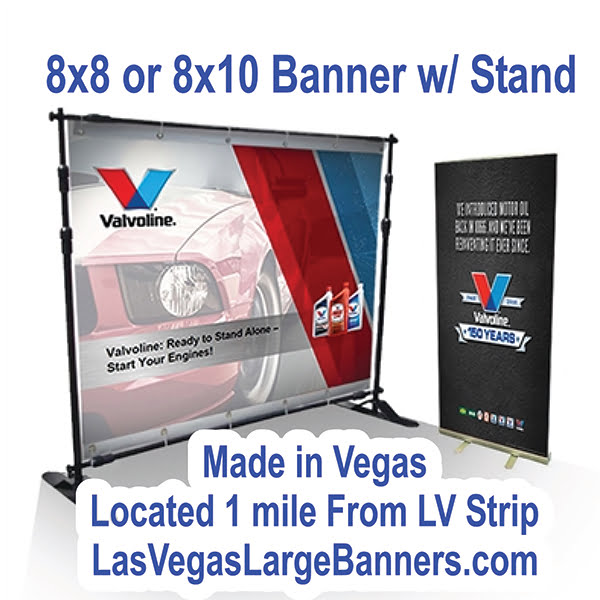 Vendors Prefer to Have their Tradeshow Backdrop Sign Printing Vegas Made Locally.
Large backdrop signs cost a lot of money to ship. So this is one of the reasons companies prefer to have their trade show signs made locally. Also, it makes sure that the signs and banners will be here when they arrive. Shipping companies are notorious for shipping packages late or the packages showing up damaged. Having the convention signs and convention banners made locally takes all the stress away.