Trade show sign banners Vegas are in demand during the trade show events. There are many trade shows in Vegas. These shows attract thousands of vendors and companies from all over the world. So in return, the shows attract millions of people from around the world. One of the large events, the Consumer Electronic Show attracts people from all over the world. This trade show attracts a couple of hundred thousand people alone. It is held at the Las Vegas Convention Center venue that has over three million square feet of floor space.
Trade show banners can be made quickly. Large format printers have come a long way in technological advancements in the last few years. The new sign printing machines can print vinyl banners faster than ever before. The quality has improved dramatically and the Vegas banners last a long time. Specials inks are used that are ecologically sound and environmentally friendly. So these inks are designed to withstand the harsh Las Vegas summertime sun and not fade. The inks bring out the bold and vivid colors of your designs. The banners Vegas are cheap in price because more banners can be printed in the same amount of time. So with more banners being made per hour, the cost of producing the vinyl banner signs has fallen. This cost savings has been passed on to the consumer.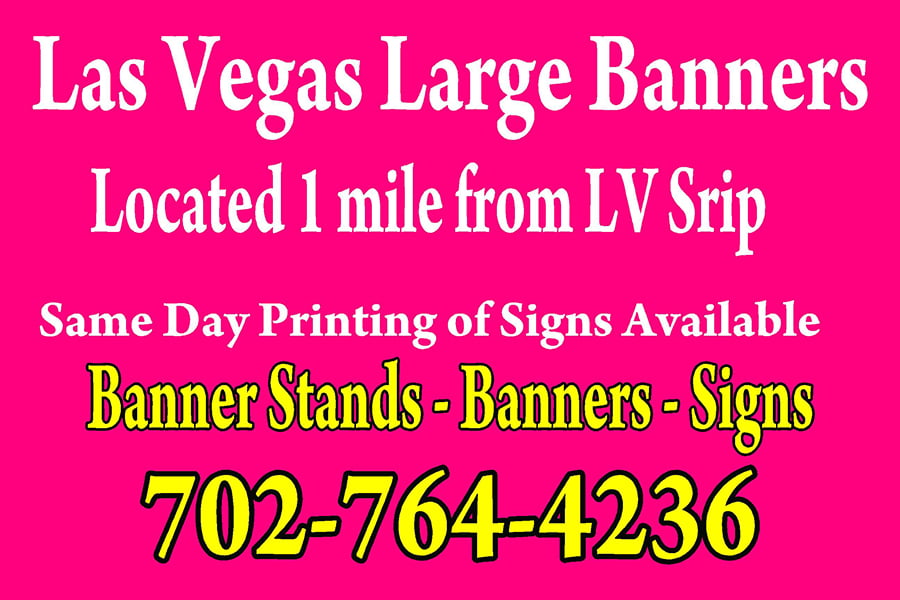 Many Other Signs Can Be Made Besides Trade Show Sign Banners Vegas
Many other types of signs and banners can be made for the tradeshow events. The table cloth signs, foam board signage and backdrop banners can also be made quickly and inexpensively. The sign shops near the convention venues are your best bet. As they service the trade shows and conventions and have the most modern sign making equipment in Las Vegas.