Trade show roll up displays Vegas are being used to create attention at the many Las Vegas trade shows and conventions. These portable banner stands are great because they are self standing. So they can be placed anywhere in your display booth. The roll up banner displays have become an essential tool for displaying companies to capture attention. Also convey their brand marketing and make an impact on attendees. The whole purpose of going to these events is to get the attention of the attendees and create more business. These trade show signs help you do just that. So these signs can be foam core board signs, roll up banner stands or backdrop banners. There are many more trade show display signs to choose from to get attention.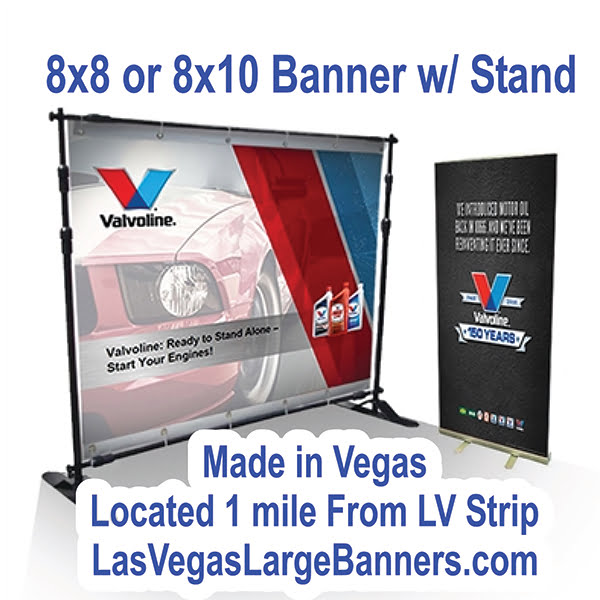 Trade Show Roll Up Displays Get Attention At Trade Shows
The visual impact of your trade show signs draws attendees to your display booth. So then comes your opportunity to talk with the potential clients about your company and products. The retractable banner stands can then be used as props and referred to during your sales presentation. The backdrop banners are increasing in popularity. So as the attendees walk by, they see this large sign in the background. Companies will print their company name on the backdrop banner, pictures of products and then a brief description of the products. The foam core board signs are great for temporary signage. These light weight signs can be placed on easels or table tops to garner attention.
The key to success is using a color scheme that is bright and vivid that reflects your company colors and product colors. The visual impact of the signs bring attention. Clear pictures need to be used as it reflects the quality of your products and company. Clear and concise text should be used that is easily readable. As attendees are tired and overwhelmed at these events and need simple messaging to assimilate your information.
Trade Show Signs Are Easy To Set Up
The set up of all the signs mentioned in this article is easy. So you do not need to hire expensive union labor to set up. Not only is the union labor expensive, it is time consuming to order the installation. The retractable banner stands only take a minute to set up. If you have a trade show table, you can cover it with a table cover sign at a low cost. This table cloth sign will have your company logo or name on it to make it easy for people to know who you are.
So contact your local Las Vegas sign company for more information about these trade show signs and other types of signage that will get you noticed at your event.