Trade show banners Las Vegas Nevada are in big demand at the tradeshows and conventions in Southern Nevada. The vinyl banners are very popular at these events because they are so inexpensive. The Vegas tradeshow banners can be custom made to any size. There are hundreds of tradeshows and events held in Las Vegas annually. These events bring large companies who display their products and services to many people. Millions of people from all over attend these events. Thousands of companies and vendors display at these shows. So many trade show signs and trade show banners are needed.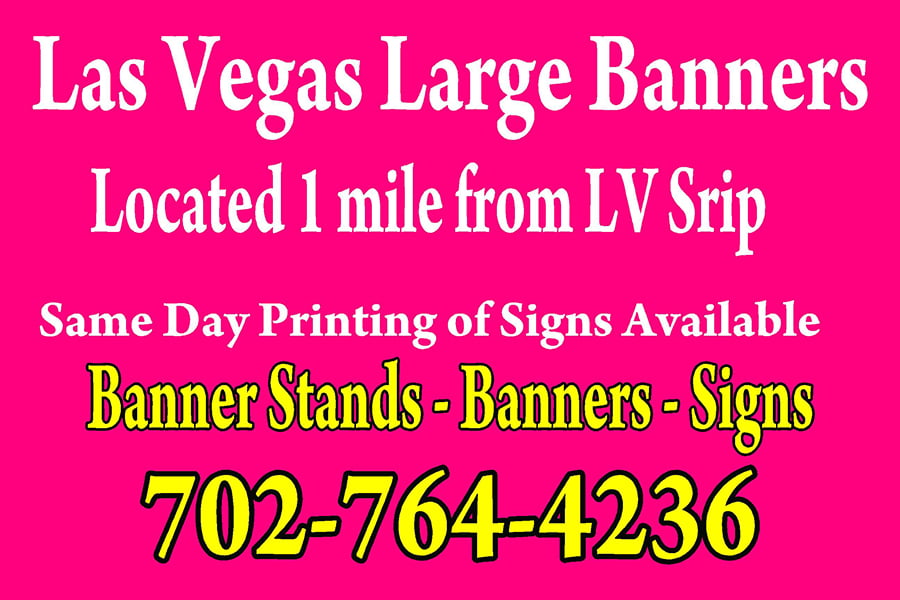 How Are Trade Show Banners Las Vegas Nevada Made ?
Las Vegas banners are printed on 13 ounce vinyl banner material with solvent inks. These inks are designed to bring out the bold and vivid colors of your design. The banner printing can be done in full color. Meaning you can have as many colors printed on the vinyl banner sign as you like. So this includes pictures and images. The banners are hemmed and grommeted for easy displaying. The banners Las Vegas can also be finished with pole pockets at the top and bottom. So this allows for displaying from a adjustable banner stand or pipe and drape type system.
Large vinyl banners can also be printed. The most popular backdrop banners are the 8×8 banner sign and the 8×10 banner sign. These two banner sizes seem to fit the back of display booths very well at trade shows. The vendors or companies can actually install the banners themselves and save money. Also fabric banners are available as well. These wrinkle free banners are very professional looking.
So contact your local Las Vegas banner company for additional information. They will be more than happy to answer your questions regarding banner sizes and what options are best for you.